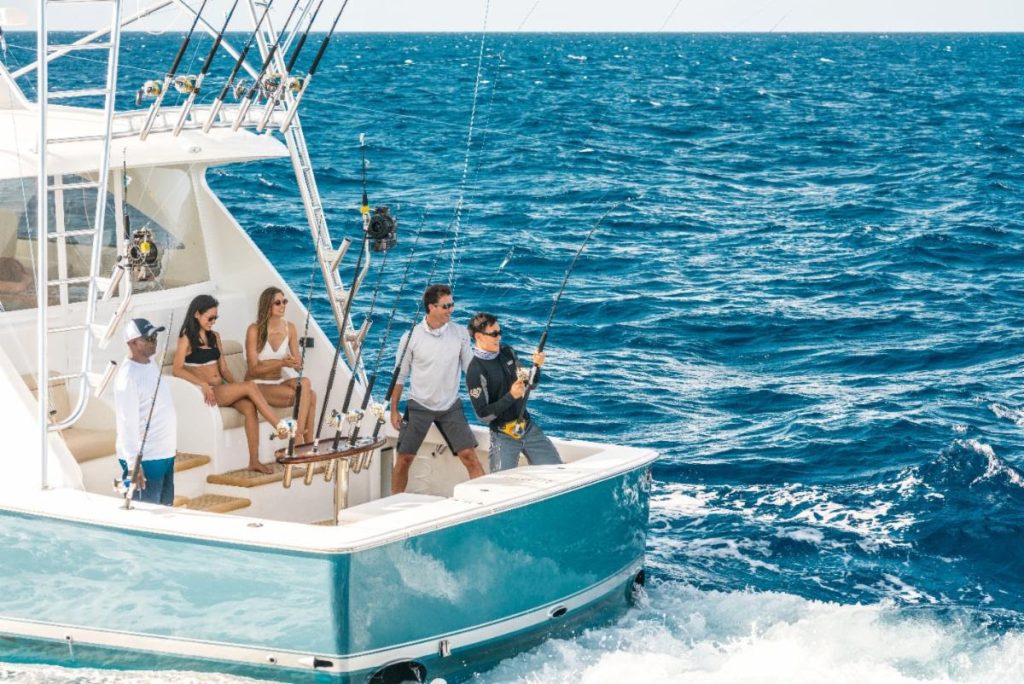 The Bahamas is a destination associated with blissful relaxation and lazy days of sunbathing on pristine sandy beaches. For a certain subset of travelers, the ideal Bahamian trip involves less time on the island and more time spent miles offshore on a charter fishing boat. The Bahamas is a sportfishing hotspot, drawing both veteran and aspiring anglers from far and wide with the promise of exhilarating big game fishing. We've got you covered if you're interested in going out on the open waters on your own deep-sea odyssey but don't know where to start. Here, we present a beginner's guide to deep-sea fishing in The Bahamas…and how you might reel in a majestic tuna, wahoo or mahi-mahi that lives up to their legendary reputation!
What is deep sea fishing?
To start, you'll need to understand what deep sea fishing is all about. If you're picturing a small tin boat on a placid lake, you're mistaken. Deep sea fishing often takes place in ocean waters about 100 feet deep so that anglers can target the largest sporting fish. You'll definitely have to put in the work to catch these species; some specimens easily weigh over 100 pounds. Many prized fish caught off the shores of The Bahamas have tipped the scales at over 300 pounds, meaning reeling one in is a test of mental and physical strength.
If your heart is set on catching a legendary big fish, let's dive in deeper about how to actually do so. Within The Bahamas, there are many favourable areas in which to go deep- sea fishing. Picking a perfect fishing spot is tough, but some of the best in The Bahamas are the waters around Bimini, Treasure Cay, the channel between Andros and Nassau and the Exuma trough. As a beginner, your best bet is to find a great charter with an even better guide to help you navigate the waters. As you might expect, we've prepared a helpful list for you below.
How to choose a charter
You can't go wrong stepping aboard any of these trusty charters. For new and even experienced anglers, they represent one of the most consistent ways to return to shore with an impressive catch:
Yellowtail Charters
You'll find family-owned Yellowtail Charters in Nassau. This deep-sea fishing business runs on three generations of sportfishermen with significant experience navigating the waters offshore. The expertise and knowledge of the captains at Yellowtail Charters will maximise your potential for catching big fish. If you want to experience the excitement that comes along with a deep-sea fishing trip, this is the charter for you!
Hunter Charters 
You're bound to have a blast during a day out with Hunter Charters. The captains at Hunter Charters take pride in giving guests an incredible fishing experience. The owner and operator of Hunter Charters, Paul Smith, has been fishing in Nassau since 1979. The experienced crew takes their guests only 15 minutes off the shore of Nassau for some of the best deep-sea fishing in The Bahamas. Come aboard their clean, modern charters for some world-class fishing!
Chubasco Charters 
With over 30 years in the boat chartering business, Chubasco Charters has been joyfully guiding visitors on their fleet of four sportfishing boats. Chubasco Charters has made quite a name for itself in the deep-sea fishing industry and often sets annual catch records. If you want to get in on the action, Chubasco Charters will be delighted to share in the joys of deep-sea fishing. They prioritise their visitors, so you can expect nothing but smooth sailing on your deep-sea fishing adventure with Chubasco Charters.
Once you've decided on the perfect charter, you're well on your way to making a big catch. You can prepare for your trip in several ways, so we've compiled a few tips to ensure your success!
What to bring on the boat
It's not just about choosing the right rod. There are a number of elements to consider when prepping for what can be a long day at sea:
Clothing 
Clothing is very much weather-dependent. On a hot sunny day, you'll want to bring a light, breathable long-sleeve t-shirt to protect your skin from the sun. Consider also wearing shorts on hotter days and on cooler days, opt for pants. Also, bring additional layers like a windbreaker and an extra shirt. Ultimately, wear clothes that you don't mind getting fish slime on!
Sunscreen
There's not much to elaborate on here, but most definitely bring sunscreen. We suggest also bringing sunglasses and a baseball hat or any other brimmed hat! You don't want to burn, and a brim may keep any sea spray out of your eyes.
Food and Drinks
Many charters offer everything needed for a fantastic fishing trip, like food and drinks. Check out the website of the charter you're using for specific details. If food and drink aren't included, you'll want to bring plenty of drinking water, snacks and lunch for a more extended trip. It takes a lot of energy to reel in a truly massive fish!
After preparing and planning for your first deep-sea fishing trip, it's time for the real fun! On the day of your journey into the bright waters of the Atlantic Ocean, you can expect plenty of excitement! Bring your camera because this will be a day you won't want to forget!
Getting there:
Daily flights from Toronto to Nassau with either Air Canada or WestJet.  
2-3 flights weekly from Montreal to Nassau with Air Canada beginning Nov. 5.
Weekly Air Canada flights from Toronto to Great Exuma beginning Nov. 13.
Weekly WestJet flights from Calgary to Nassau beginning Nov. 26

.

Weekly Sunwing flights to Freeport, Grand Bahama from Toronto & Montreal beginning Dec. 17.