Expected to open in 2024, this resort will bolster Hilton's all‑inclusive presence in the Caribbean and Latin America to 10 properties across the region.
Zemi Miches All-Inclusive Resort, Curio Collection by Hilton, will be the first all-inclusive Curio Collection by Hilton property in the Dominican Republic, when it opens in 2024.
Located north of Punta Cana in the coastal town of Miches, the brand-new 502-room all-inclusive resort will welcome travellers to an area known for its pristine beaches, sprawling mountain landscapes and natural surroundings. The property is owned by Zemi Hotels & Resorts, S.R.L. and will be managed by Hilton.
Opening in 2024
Expected to open in 2024 as Hilton's 10th all-inclusive property in the Caribbean and Latin America, the signing of Zemi Miches All-Inclusive Resort, Curio Collection by Hilton cements Hilton's plan to nearly triple its portfolio in the Dominican Republic over the next five years. Hilton currently welcomes guests at five hotels in the destination and has nine projects in various stages of development across the country.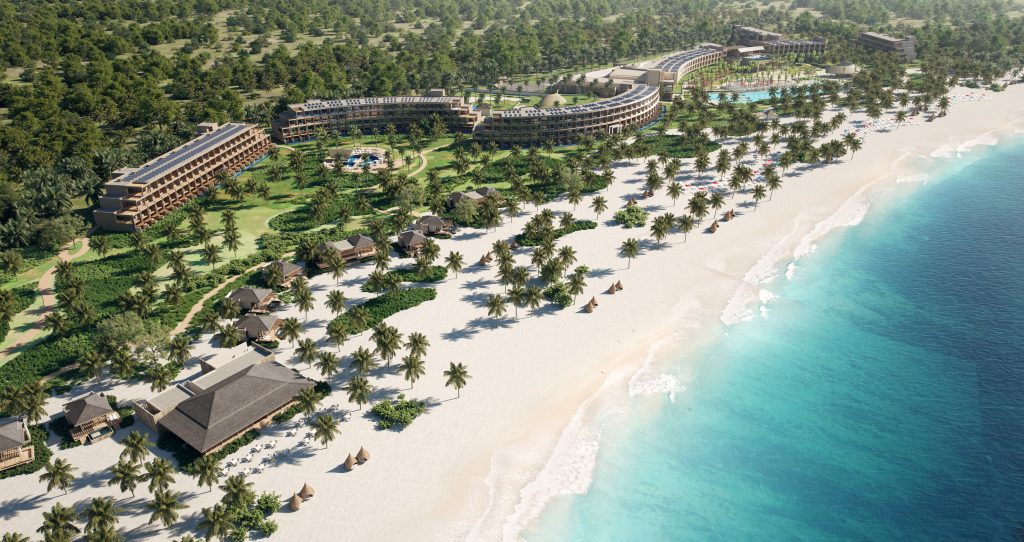 Plunge pools & beach bungalows
Located approximately 60 miles from Punta Cana International Airport, the beachfront property on a half-mile stretch of pristine Esmeralda Beach will offer 502 guest rooms spread across six four-story buildings and 18 free standing beach bungalows.
This includes 123 ground level swim-up guest rooms featuring individual plunge pools that connect via a winding pool allowing guests to swim to other areas of the resort.
Drawing inspiration from the coast's unique landforms, the hotel will feature a minimalist design with the natural tones and textures that reflect the destination. The four-story buildings harmoniously blend with the environment, while the design plan incorporates neutral wood and stonework, greenery, soft interior shades, and boho-chic elegance from furnishings to artistic structures and decor.  
Amenities & more
With a commitment to health and wellness, the oceanfront resort will offer a sprawling pool complex with water park, a state-of-the-art fitness center and juice bar. A dedicated spa building will boast ten treatment rooms, a beauty salon, an indoor pool, sauna, jacuzzi, and an outdoor terrace for yoga and meditation. 
The resort will feature 15,000 square feet of flexible indoor and outdoor meeting and event space.