Bourbon aficionados will clearly find Kentucky a spirit-ed place.
The state accounts for 95% of the production of the distinctively American spirit of bourbon, and is cheerfully promoting both the alcohol and bourbon-related tourism attractions to potential visitors.
"There's so much culture around the bourbon heritage," says Jessica Morgan of Louisville Tourism while citing her city's Urban Bourbon Trail.
Bourbon distilleries fled Louisville for the countryside during the Prohibition era in the United States but have now returned in force, with 10 urban distilleries opening since 2013.
Louisville visitors can opt for Bourbon City Cruiser tours that use a tuk-tuk-style electric-powered vehicle operated by a tour guide who will take them to distilleries and cocktail bars.
North of Bourbon in turn enables people to dine in an oversized replica bourbon barrel, while bourbon-themed accommodations are available in the Marriott Autograph Collection Hotel Distil, B&B-style Chateau Bourbon, Louisville Marriott East and the Omni Hotel.
"The downtown area is thriving and vibrant and has really come back from Covid," Morgan continues.
Morgan noted bourbon is used in many Kentucky food dishes. "We have a phrase — 'Eat your bourbon.'"
Louisville also has a burgeoning craft beer scene, with the Brewgrass Trail — the name of which is a take on the state's popular bluegrass music — linking 18 independent breweries.
Other downtown Louisville attractions include the Louisville Slugger Museum & Factory, home of the famous baseball bats, the Muhammad Ali Center, which tells of the boxing great, who was from Louisville, and a host of museums.
Tourism authorities also praise Louisville's varied architectural styles, with Old Louisville being a registered historic district that has the largest collection of restored Victorian mansions in the United States. The district comprises more than 40 city blocks of Beaux Arts, Cateauesque, Italianate, Neclassical and Queen Anne-style homes.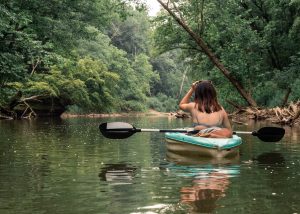 Daytime Old Louisville walking tours are available, as are nightly ghost tours that describe why Old Louisville was once named "One of America's Most Haunted" districts.
Gina Christ-Kohler of Meet Northern Kentucky notes Air Canada has restarted twice-daily Toronto-Cincinnati service, with the Cincinnati airport actually being found in Kentucky.
The Ohio-Kentucky border is defined in part by the production of alcohol, she says, adding area visitors will find "breweries on the Cincinnati side, distilleries on the Kentucky side."
Kentucky marks the spot where the northern United States meets the southern United States, she continues.
Christ-Kohler, who hosted tourism industry staff at a Toronto Blue Jays game during a Toronto visit, adds that baseball fans will appreciate Cincinnati, home of the storied Cincinnati Reds.
Meanwhile, Anne Sabatino Hardy of Lexington visitors bureau visitLEX labels the Lexington area both the "horse capital of the world" and the "center of the thoroughbred culture" in the United States.
Visitors can go on guided tours of area horse farms while in a state that's home to the famed Kentucky Derby.
Those visitors can also see retirement homes for race horses.
Officials also praised Kentucky's natural side, noting it has 29 state parks and landscapes include caves, with Mammoth Cave National Park home to the longest known cave system in the world.
Some Kentucky caves can be explored by kayak or by paddle boards.
Angela Blank of the Kentucky Department of Tourism says tourists will enjoy Kentucky's "incredible musical heritage."