Utah — which prides itself on easily enabling tourists to enjoy star power in the truest sense — is now eagerly promoting a temporary disruption of celestial rays.
A state that is home to more internationally accredited dark sky parks and places than anywhere else on the planet — 24 at last count — will offer prime locations to view the Great American Solar Eclipse on Oct. 14. The eclipse will pass over several national parks and monuments in Utah, creating distinctive viewing locations, such as from the famed hoodoos at Bryce Canyon National Park and  through an arch at National Bridges National Monument – the world's first Dark Sky park.
"It's a full total eclipse so it should be quite phenomenal," Rachel Bremer of the Utah Office of Tourism said during a recent Toronto event. "For eclipse enthusiasts, this is a big deal. People from all over the world travel to see this kind of thing."
Hotel lodging will now be hard to come by in prime viewing locales for the actual eclipse but other accommodation options will be available, with some homeowners in those areas turning their homes into temporary AirBNB dwellings.
A Dark Sky venue
Utah has been enthusiastically promoting itself as a great Dark Sky venue, with Bremer stating that a combination of altitude, dry air and a somewhat smallish population of around 3 million people — resulting in little light pollution — enables visitors to easily spot star-studded nighttime skies, views that are denied to many people in other parts of the world.
"To be able to walk out of your hotel and see stars is pretty unique for many," she said during the Toronto visit, billed as a Utah Star Party and which coincided with International Dark Sky Week.
The Utah delegation then continued to Calgary and Vancouver.
Utah tourism authorities are determined to help others see the constellations, with the Canadian tour not going the common route of giving event attendees gift bags, instead donating money that would have been spent on the swag to The International Dark Sky Association and the Royal Astronomical Society of Canada.
Bremer acknowledges that promoting the eclipse is a "little bit of the opposite" from her office's more traditional Dark Sky tourism. "It's kind of cool."
More stars in Moab
Melissa Stocks of Grand County Economic Development, which includes the city of Moab, noted her area is among destinations that can leave visitors somewhat star-struck, thanks to regional parks.
"The parks and monuments of southeastern Utah share some of the darkest skies remaining in the contiguous 48 United States," tourism authorities state. "In recent years, three of Moab's most popular parks — Arches National Park, Canyonlands National Park, and Dead Horse Point State Park — have been recognized as International Dark Sky Parks. Park staff routinely provide programs celebrating the night sky, from walks under the full moon to gazing through telescopes at objects millions of light-years away."
For more information visit: discovermoab.com/moab-night-skies .
Visit Cedar Valley
Becki Lewis of Visit Cedar City — found 250 miles south of Salt Lake City — in turn said that culturally inclined sorts can do some star-gazing while in Cedar City, home to the annual Utah Shakespeare Festival, which dates back to 1962 and this year starts in June and continues into October.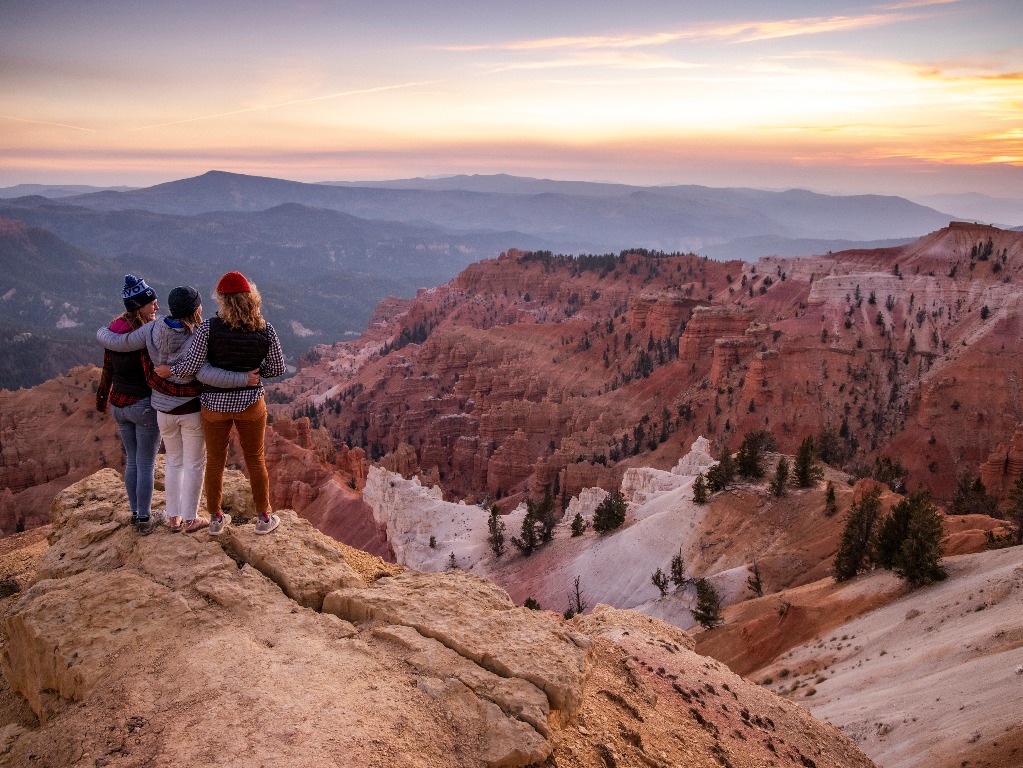 Three theatres are used for it, including a "replica of a replica of the Globe" theatre in London in which Shakespeare's plays were first performed. That roof-less Cedar City theatre provides sightings of starry skies to those taking in nighttime performances, Lewis said.
More information about the festival can be found at bard.org.
Lewis added that Utah has plenty of venues for people to enjoy nature.
"Most of the state parks would be national parks in other states," she said. "They're just beautiful."
See Salt Lake City
Meanwhile, Ryan Mack of Visit Salt Lake said those visiting Salt Lake City can get up close and personal with some of the same terrain as athletes who competed in the 2002 Salt Lake City Winter Olympics did.
That includes both downhill and cross-country ski trails used for races.
"They (alpine trails that hosted races) won't have the gates but they'll be the same runs," Mack said.
Skating and curling classes are available in the facility that hosted skating and curling competitions.
Mack said Salt Lake City's successful staging of the Olympics boosted its tourism trade.
"In a lot of ways, it put Salt Lake on the international map as an outdoors destination," he said.
Salt Lake City is expected to again host the Winter Olympics in 2030 or 2034, with strong community support, Mack added.
More information can be found at visitsaltlake.com.