Located minutes from the rim of Grand Canyon West and set amidst a spectacular Western landscape, the all-new Grand Canyon Glamping Resort offers an array of luxury camping accommodations, including covered wagons, tents and tipis.
In addition, the destination features on-site dining from a gourmet food truck as well as outdoor activities such as helicopter, horseback and ATV tours.
Situated approximately two hours from Las Vegas, the resort provides the only glamping experience and one of the only overnight accommodations options in the vicinity of Grand Canyon West. With its direct views of the Grand Canyon rim, the Glamping Resort combines the authenticity of an outdoor camping experience located next to one of the Seven Natural Wonders of the World with all of the comforts of a luxury resort.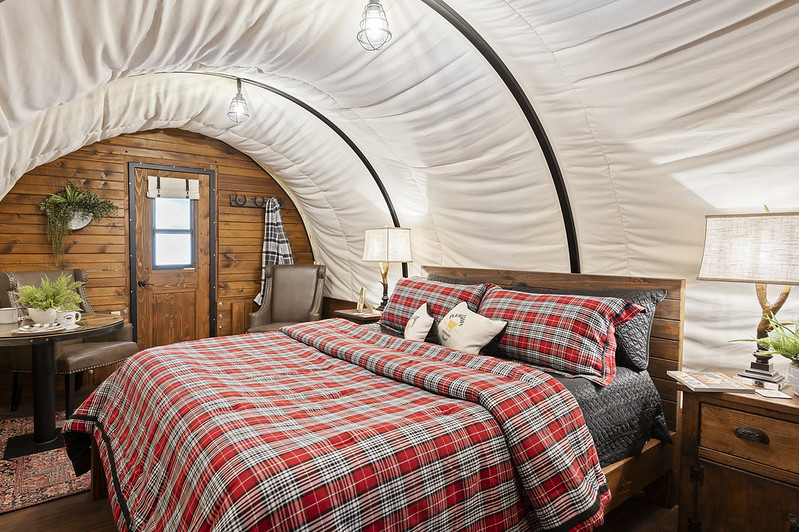 Every tent, wagon and tipi comes outfitted with plush bedding, heating and air conditioning and WiFi.  A full bathroom with a shower is also featured in the wagons; nearby restrooms are available with other lodging options.
Sleep up to six guests
Wagons are spaciously designed to accommodate up to six guests and feature enough room for a king-size bed plus a futon or two bunk beds. Tipis can accommodate up to six guests and also feature a king-size bed plus a futon or bunk bed for ultimate comfort. Lastly, each glamping tent can accommodate up to six guests and includes a futon bed that unstacks for two individuals or combines for couples. 
To offer added convenience for guests, the resort provides delicious, hot meals prepared in its gourmet food truck. Staple items include breakfast burritos, salads, sandwiches, burgers, ribeye, filet and grilled chicken from the grill. Guests can also add a gourmet chef to their experience for an additional cost. During the evenings, guests can take in the breathtaking stargazing opportunities outside next to firepits.
All about adventure
From families with young children to outdoor enthusiasts, the resort features a growing list of world-class adventures departing directly from the lodging area. Each adventure can be added separately to a resort stay, or all three activities can be bundled together for the ultimate Grand Canyon experience. Select adventures include lunch. Current activities available at the resort include:
Helicopter Tours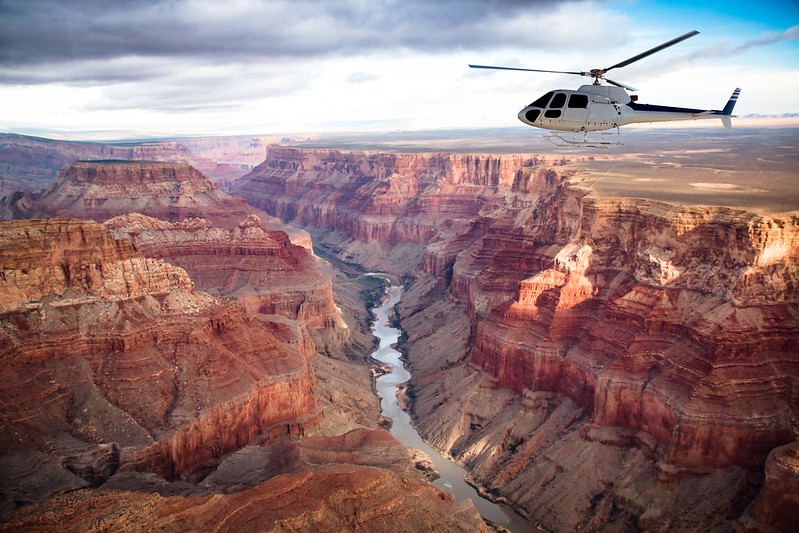 Helicopter tours take passengers on a 20-minute flight directly over the Grand Canyon, flying 4,000 feet above the majestic Colorado River. As the helicopter descends 2,500 feet, guests will find themselves in between the walls of the canyon for a once-in-a-lifetime experience. All guests ages 2 and under will sit on the lap of a parent/guardian; children over 2 will sit in their own seat. This experience can be added to a resort stay for an additional $175 per person.
Horseback Riding Tours 
On horseback riding adventures, guests will take in the beautiful scenic mountains with views of the Grand Canyon West Rim. Visitors can enjoy the 1-hour horseback ride for $150 per person. The horseback ride includes a group tour into magnificent wildlife habitats and adventures through exciting ranch terrain. No experience is necessary, but all riders must be a minimum of 7 years old. In addition, private group horseback experiences, including optional overnight adventures, are available. Private rides may be customized to include rodeo events, horsemanship clinics, roping, team pinning events and other horse activities.
ATV Riding Tours 
This is the perfect tour for visitors looking for an exciting outdoor adventure in a short amount of time. In this motorized scenic tour, guests will ride through the Joshua Tree Forest while exploring a variety of terrain and spectacular views of the edge of the West Rim of the Grand Canyon. Guests must be at least 6 years old to participate. Resort guests can select a 1-hour ATV ride for $150 per person.
In addition, the Grand Canyon Glamping Resort also offers complimentary shuttle service from most Las Vegas Strip hotels for guests booking an add-on tour. Visitors strictly staying at the resort may also purchase round-trip transportation starting at $175.
Lodging in units without showers and restrooms begin at $149 per night on select weeknights. Busier weeknights and weekends start at $350 per day. For more information or to book a stay at the Grand Canyon Glamping Resort, visit grandcanyonglampingresort.com.