Croatia: Beautiful Surprises are Waiting for You
In Croatia, almost anywhere the land meets the water, rough steps carved from pure white limestone jut into the teal waters of the Adriatic Sea. The country's impressive coastline is among the largest in the Mediterranean and has quickly gained recognition as one of Europe's most beautiful.
Here, white sand beaches and towering palms are scarce. Instead, in July and August, when the heat from the sun is at its strongest, locals young and old can be found sprawled out on the nearest rock ledge that hangs over the sea, the rays turning their skin to a deeper shade of burnt bronze, while fishermen set up their boats and inspect their nets in preparation for a day on the water.
In 2011, 8.5 million international tourists trickled into Croatia. That year was also the same year that the first episode of what would eventually be one of HBO's most popular television shows, Game of Thrones, aired with scenes filmed throughout the old town of the medieval city of Dubrovnik.
Now, a decade later, Croatia's tourism numbers have more than doubled. Dubrovnik, though enchanting with its symmetrical orange clay roofs and ancient stone walls should by no means be the only city on your itinerary. As one of the five main airports in the country (Zagreb, Pula, Split, and Zadar being the others), Dubrovnik serves as the perfect jumping point for an extended Croatian holiday.
With its colourful coastal towns, balmy weather, and reputable culinary scene, Croatia is a country that can easily be explored from top to bottom.
Story & photos by CHRISTINE HOGG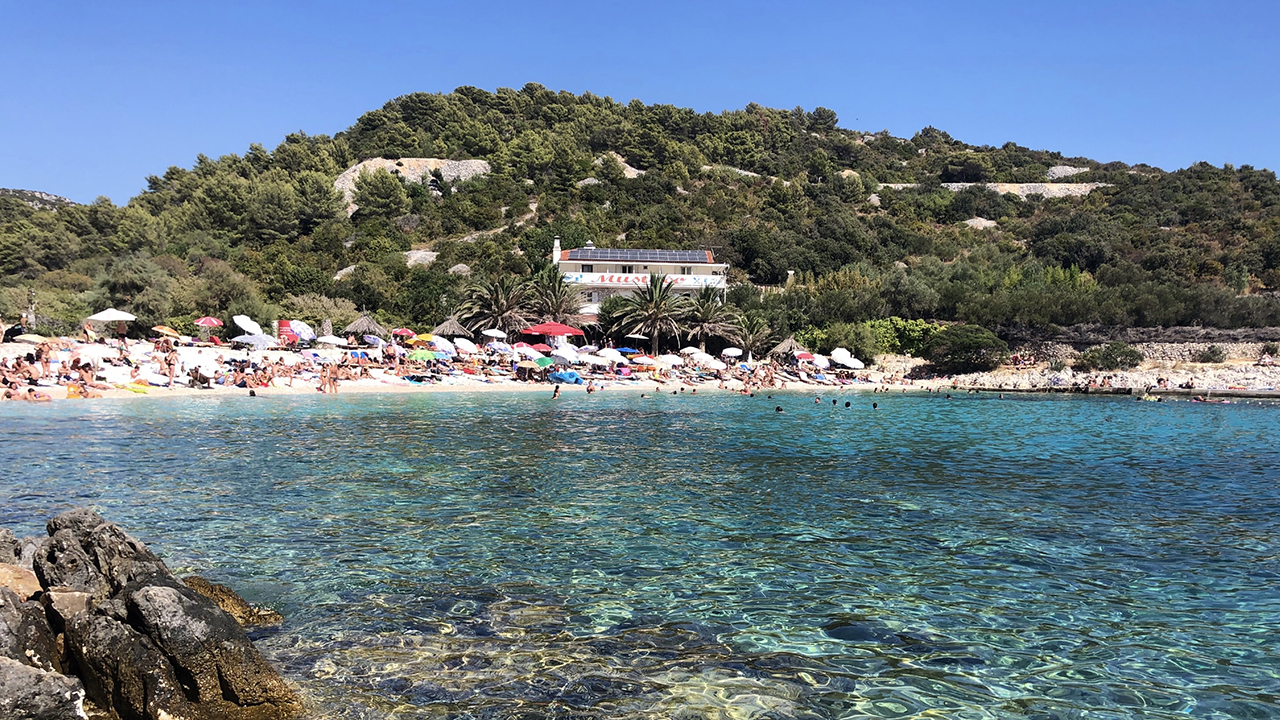 With more than 1,000 combined islands, reefs, and islets, Croatia's archipelago is the largest in the Adriatic Sea, and the country has the second largest number of islands in the Mediterranean, second only to Greece.
The majority are inhabited, though some are home to only dense pine forests, wild boar, wolves, and bears, and secret beaches, whose crystalline waters can still be reached by boat for an exciting day trip.
Perhaps one of Croatia's best islands, Hvar, is to Croatia what Ibiza is to Spain. Easily reached by ferry from Dubrovnik two times per day during the high season, Hvar is a destination that's steeped in rich nightlife, making it an ideal spot to escape the larger crowds of Croatia's landlocked regions, while still enjoying the social comforts a city can bring.
Hvar island is also home to the town of Hvar (not to be confused with the island itself ), which dates back to the 13th century. It's the biggest settlement on the island, and where the majority of restaurants, bars, and shops are located. Hvar acts as an open-air museum to the past, with many well-preserved sites, like the Stari Grad Plains, an agricultural landscape that were constructed in the fourth century by the ancient Greeks.
One of the best ways to take in the entire island, including Stari Grad (just 25 minutes outside of Hvar town) is by renting a gaspowered scooter or a quad for the day.
From mid-June to mid-July, the island of Hvar is bathed in a sea of blooming, violet-coloured lavender fields, with the majority of the fields being on the stretch of road that connects Stari Grad back to Hvar town. When lavender is in season, the fragrant floral also makes its way onto the gelato menus all over the island, where a popular flavour combo is one scoop of lemon, and one scoop of lavender.
Head back to mainland Croatia for a brief visit by taking the ferry from Hvar to Split.
Arriving by water, Split's picturesque skyline which features the towering white Cathedral of Saint Dominus, constructed in 305 AD, is the first glimpse visitors will have into the city's thrilling past.
Split is Croatia's second largest city and one of the country's most popular tourist destinations, thanks to its easy link to the surrounding Adriatic islands. It's a city whose history is as beautiful as it is complex, and in the heart of it all lies a nearly 2,000-year-old compound built for a former emperor, known as Diocletian's Palace. Its immaculately preserved grounds form a protective rectangle around the historic city of Split, with hundreds of shops, bakeries,
and restaurants found on the grounds.
Visitors to the palace are greeted by a 3,000 year-old Egyptian sphinx made from black African granite, which is said to have been dragged all the way from Egypt to Croatia under orders from the emperor himself.
Don't miss the massive underground market inside of Diocletian's Palace where tourists can purchase anything from genuine coral jewellery to stuffed lavender pillows and silk ties.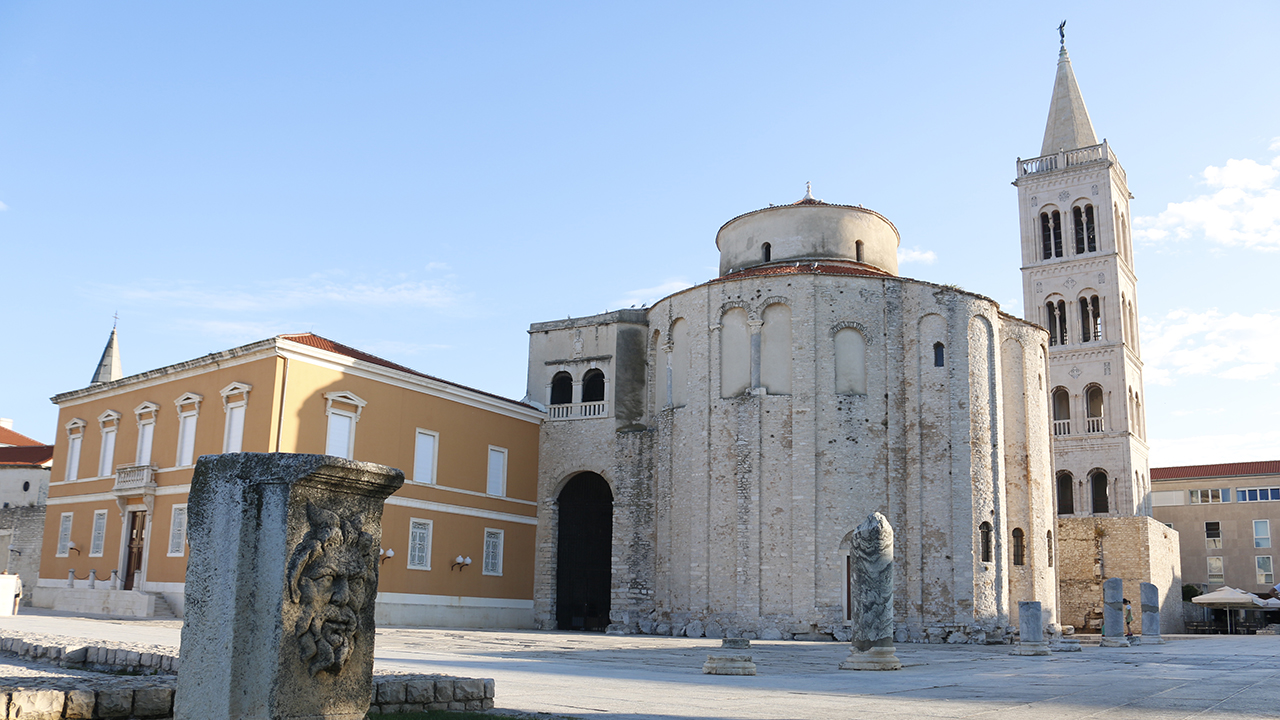 Continue heading north along Croatia's Dalmatian coast to the city of Zadar, unmistakable for its dazzling white limestone streets and lively waterfront. In the evenings, listen along to the strums of soft guitar music and sing along to traditional Croatian songs that eventually lead to dancing in the streets.
The city of Zadar has a striking promenade with major fashion labels and an overwhelming restaurant scene that extends well beyond North America's traditional palette.
A country that's famous for its creative expression, whether through the visual arts, theatre, or, perhaps most importantly, music. Zadar is also home to several modern art installations, including the Sea Organ (2005), an experimental architectural instrument that uses the waves of the Adriatic Sea to produce randomized chords of music, which occur when the water flows into a series of pipes and a cavity constructed below a set of concrete steps, and the Greeting to the Sun (2008), a large circle made up of 300 glass solar panels. In the evening, the panels emit coloured lights, and the art installation transforms into a dance floor.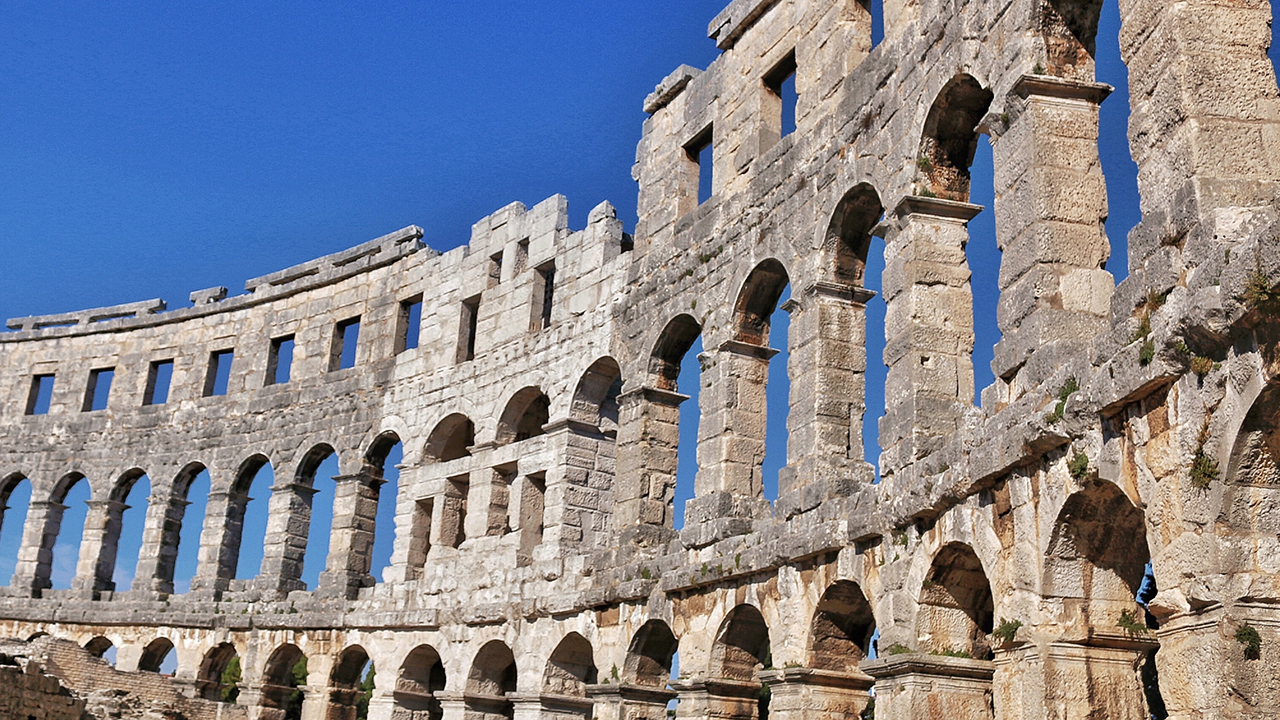 At one of Croatia's northernmost points, and directly across The Adriatic Sea from Venice, Italy, lies one of Croatia's best-kept gastronomical secrets —Pula.
Most easily reached by plane from Zadar aboard the regional carrier, Croatian Airlines, Pula is Croatia's eighth largest city, located in the Istrian Peninsula. Much of its tourism stems from its impeccable food and wine offerings, which are much different than the cities further to the south.
The Istrian region gained even more recognition in 2012, when the late celebrity chef Anthony Bourdain traversed through Croatia to film an episode for his series, "No Reservations". During the episode, Bourdain hunted for rare white and black truffles that nowadays can fetch upwards of 2,500 euro for even the smallest mushroom. 
While the restaurants found along the Dalmatian coast all serve the freshest catch of the day and a series of traditional pastas, including frutti di mare (grilled squid, clams, and shrimp done in white wine garlic or tomato sauce), in Pula, the diet becomes largely influenced by the proximity of Croatia's next door neighbour, Italy.
Here, the wine flows as freely as the olive oil, which is poured on everything from woodfired pizza crusts to hearty traditional stews and soups. Homemade olives make their way onto charcuterie boards and meat dishes are featured more prominently on the menus.
Croatia is home to more than 300 geographically-designated wine regions, with a history of winemaking that dates back 2,500 years when the Ancient Greeks inhabited the area and planted the first grapes. Istria's rich, red soils and sub-Mediterranean climate enables the wines made here to be flavourful and full-bodied. Food and wine tourism continues to dominate the Istrian Peninsula, and many culinary tours are available for booking.
Eat Istria, led by Istrian-born Goran Zgrablić, is one such company that offers both private cooking classes and organized wine tours. Guests can try their hand at rolling out traditional Croatian pasta (fuži), or chopping vegetables and preparing meat to make a traditional žgvacet or brodet goulash.
Not to be missed in the quiet city of Pula is the Pula Arena. Constructed between 27 BC and 68 AD, this Roman amphitheatre is one of the world's largest six surviving arenas, and the only one of its kind to have all four walls preserved. Purchasing a ticket grants entry to the ancient seating area, where gladiators and beasts once faced off for royal entertainment, as well as a museum located beneath the arena where ancient artifacts can be viewed.
With their endless historic archaeological sites, modern attractions, breathtaking beaches, and culinary delights, these four regions are among Croatia's most popular tourist destinations, and all provide year-round entertainment, whether visitors come in the high season or the low season.
Visit offshoretravelmagazine.com for more on Croatia and updated information on travel arrangements.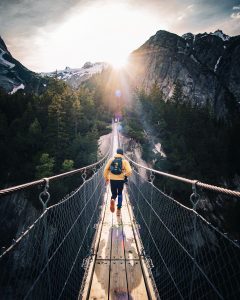 A new survey by British Airways reveals that one in five Canadians are planning to travel more than ever before in 2024.  Notably the pandemic has made more than half of all Canadians want to travel more (58%).  A third (33%) of Canadians plan to explore new destinations and tick places of their 'must visit' list in the new year.
Read More »