Meet the plant-based couple behind one of Jamaica's most successful farm-to-table movements
Story and photos by: ANN RUPPENSTEIN
What happens when a high school principal from New York meets a Rastafari farmer from Jamaica? An unconventional recipe for love and delicious cuisine unfolds.
Two months after meeting in Portland, Jamaica, Lisa and Chris Binns were newlyweds who eventually settled into a studio apartment overlooking the luscious hills of St. Ann.
Today, the couple — who fittingly make up the Stush (city chic) and Bush (farmer) behind the culinary enterprise Stush in the Bush — invite guests onto their 17-acre property for a one-of-a-kind farm-to-table dining experience.
"We are self professed locavores. We like to use all things local in as much as we possibly can," says Lisa, pointing out the components that make up the elaborate appetizer spread that's being put out on a large wooden table alongside helpings of refreshing passion fruit sangria. "This spread here is our Jamaican mezze. Mezze is a Middle Eastern term that means a little bit of this and a little bit of that, and so this is a lot of little things for you to try."
What started as a small venture from their off-the-grid home has since morphed into a successful business gaining a reputation among locals and international visitors alike for their unique and flavourful culinary vision.
"For those of you who don't know, we are all plant based," she says. "When you think about veganism, it really finds its centre in Rastafari and Ital… People are much more focused, ever since COVID-19, about plant-based food and what's going into their bodies."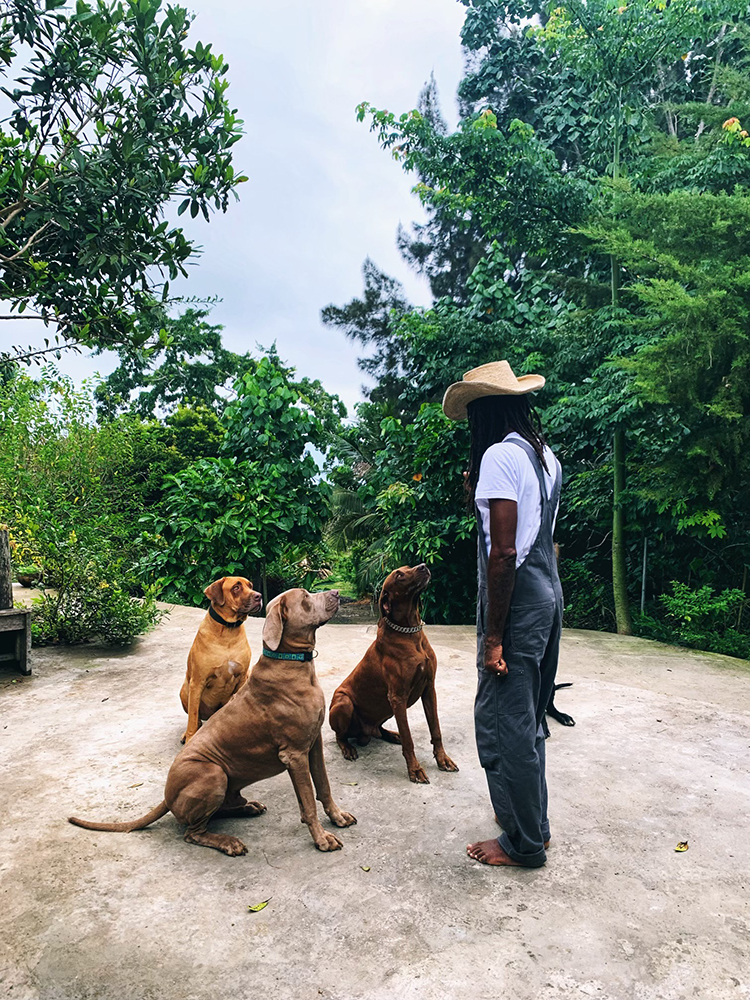 In the rustic farmyard chic setting with open window shutters that give way to views of the surrounding mountainous landscape, the stylish Barbados-born entrepreneur guides everyone through her "sexy vegetarianism" feast of yam and pineapple croquettes, Bajan fish cakes made from eggplant, roasted breadfruit with jerk seasoning, a foray into plant-based cheeses and spreads like an almond-based hummus and ricotta, and a selection of house made hot sauces.
Before moving onto the multi-course dinner, a barefoot Chris in grey Carhartt overalls leads our group on a tour through the organic fruit and vegetables they grow onsite, showing off local specialities like ackee and scotch bonnet peppers.
Lisa, who stopped eating meat after meeting Chris, had a desire to create vegan food full of flavour inspired by her roots and the variety found in New York. By taking the concept of plant-based food in Jamaica to the next level, the demand for Stush in the Bush was so strong that the pair transformed their apartment into the main base for the business, and relocated into a new loft to accommodate more guests.
If you're a foodie travellers seeking an authentic and delicious off-the-resort dining experience, a meal at Stush in the Bush is a treat. Fair warning: be sure to come hungry!
Stush in the Bush also sells a variety of preserves and hot sauces that can be purchased to take back home.
To learn more about Stush in the Bush or book a reservation for yourself, visit: stushinthebush.com