"Quick! Look out the window," called my seatmate, Pam.
"What was it?" I asked, simultaneously getting up from my heated, plush leather reclining chair, which was quickly proving to be a necessary add-on feature to this journey. Despite being the end of July, the temperature outside this morning was winning against all of the clothes I'd brought from Toronto.
"I think deer maybe, or a wolf? Or it could have been a moose," Pam pondered, groggy from an early start combined with still adjusting to the time change from her home in England.
"I didn't see it!" I said, lowering my camera, knowing that here in the belly of the Canadian Rockies, all three wildlife sightings were possible. "Did anyone catch what it was?"
"It was an elephant! It was definitely an elephant!" hollered Charlie from his seat in front of me, giddy from an impromptu morning cocktail, but also revelling in the tight-knit comradery our little group seated at the back of the train had formed just one day prior.
As laughter rocked the back of the coach, I shifted my focus to my surroundings, sank back, and enjoyed the start of my adventure aboard Canada's only luxury rail-tour company, Rocky Mountaineer.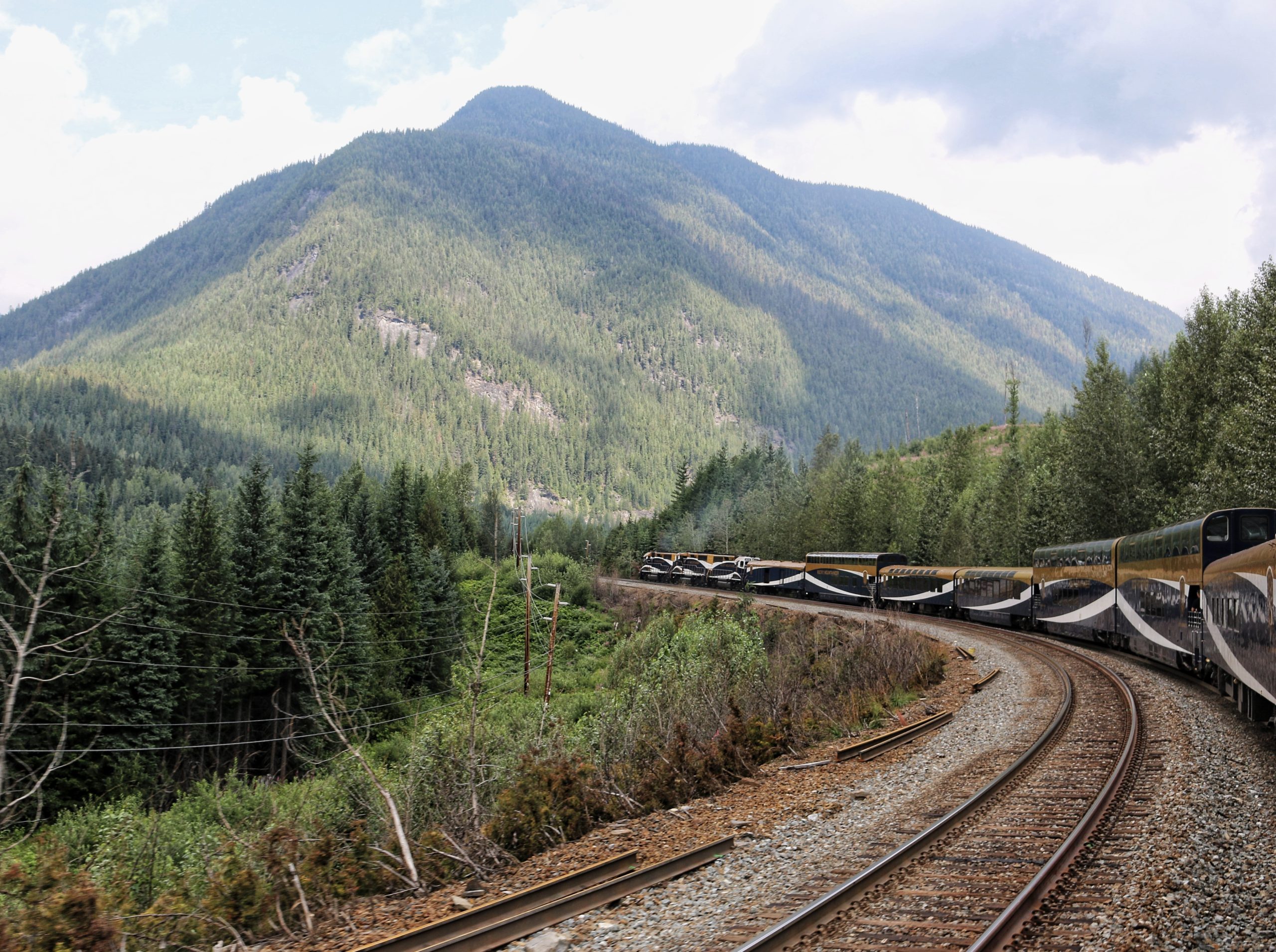 My three-day trip started the day before, when I caught a flight from Toronto to Vancouver. The next day, I set out at 6 a.m. from the company's private rail station. Rocky Mountaineer offers its guests two service levels onboard: GoldLeaf and SilverLeaf. 
Both top-notch options, my ticket was in the GoldLeaf coach, and as I walked the red carpet to board, I quickly realized why it lived up to its name. Travellers who opt for GoldLeaf service are seated in a spacious, bi-level glass dome coach complete with oversized glass dome windows and a glass roof. Unlike most airplane cabins, the luxurious seats provide ample legroom, even allowing for reclination.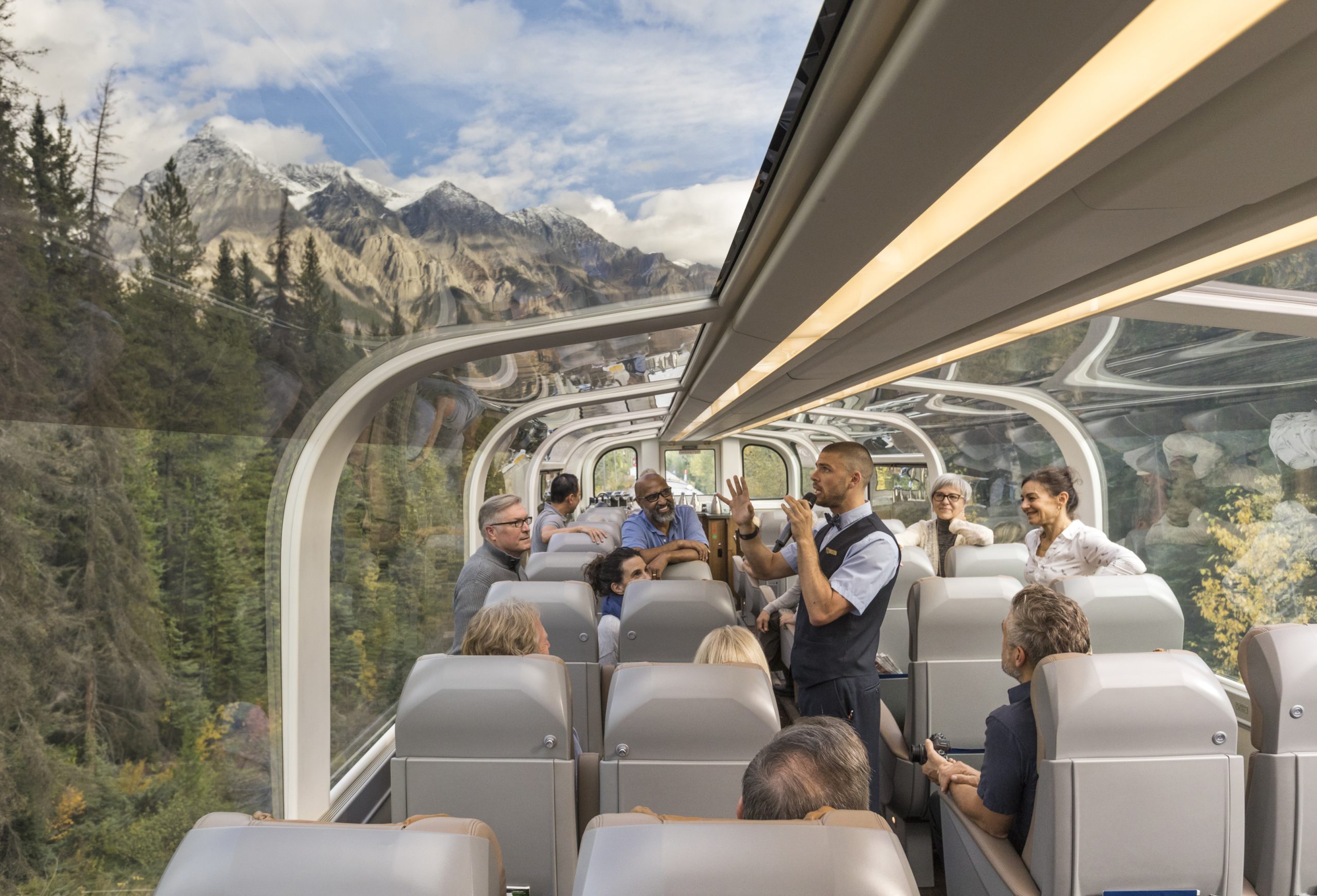 On the contrary, SilverLeaf guests ride on a single-level glass dome coach with full-size glass windows. The major difference—and it's a big one—is the sweeping outdoor viewing platform that allows for panoramic views of Western Canada while the train is in motion, where you'll gawk at everything from larger-than-life mountains, to rushing rivers and soaring bald eagles, all without trace of a single other person or vehicle.
For more than 30 years, Rocky Mountaineer has been transporting travellers through the Canadian provinces of British Columbia and Alberta and, more recently, through the U.S. states of Utah and Colorado. The company began in 1990 with two routes: First Passage to the West (running between Vancouver and Lake Louise/Banff via Kamloops) and Journey Through the Clouds (between Vancouver and Jasper via Kamloops).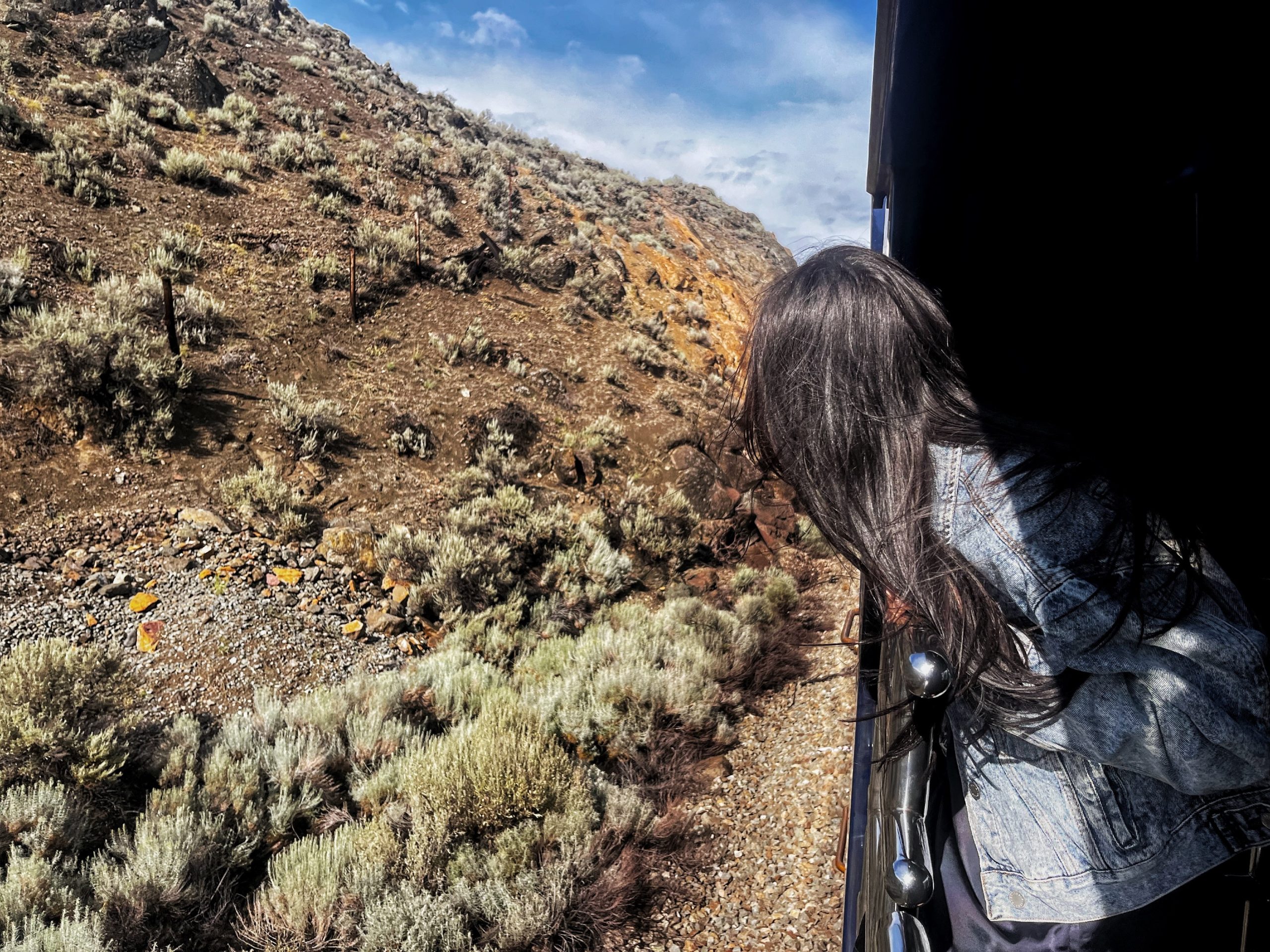 By 2006, a third route, Rainforest to Gold Rush, was added to showcase the rarely seen interior and northernmost parts of British Columbia. The Canadian-owned company offers dozens of trips to suit any vacation style and trip lengths can range anywhere from a short stint of one to three days to upwards of 10 to 12 days. 
Short Journeys start at roughly $2,000 per person and allow for two days of exploration of the Canadian Rockies or the American Southwest. Circle Journeys let you combine two different rail routes, like the eight-night Lake Louise Circle Journey, or the 12-night Best of the Rockies Circle Journey, which does a complete loop of Vancouver, Kamloops, Banff, Lake Louise, Jasper, Quesnel and Whistler. Circle Journeys begin at $6,000 per person. Rockies Highlights, curated to show off the best views of the West, offer nine unique rail packaged adventures that start at around $3,400 per person.
First Passage to the West, the trip I took, is the company's flagship route. It continues to be one of the most popular. Retracing the historic Canadian Pacific Railway, which originally connected British Columbia to the rest of Canada more than 125 years ago, this slowed-down, tranquil journey begins by following the Fraser River and the surrounding Fraser Valley. The journey from Vancouver to Kamloops covered a whopping 460 kilometres in the first day and took roughly seven hours to complete, during which I had plenty of breathtaking photo opportunities.
At the height of summer in the Rockies, the boreal forest was undeniably green, thanks in part to Vancouver's temperate rainforest.
At the halfway point between Vancouver and Kamloops, we descended upon one of the top attractions on this route, the infamous Hell's Gate canyon, suspended 36.8 kilometres above the town of Yale. Named in 1808 by Canadian explorer and fur trader Simon Fraser, Hell's Gate is a narrow passage of towering rock and rapids so furious that a page from Fraser's diary describes it as "…a place where no human should venture, for surely these are the gates of Hell."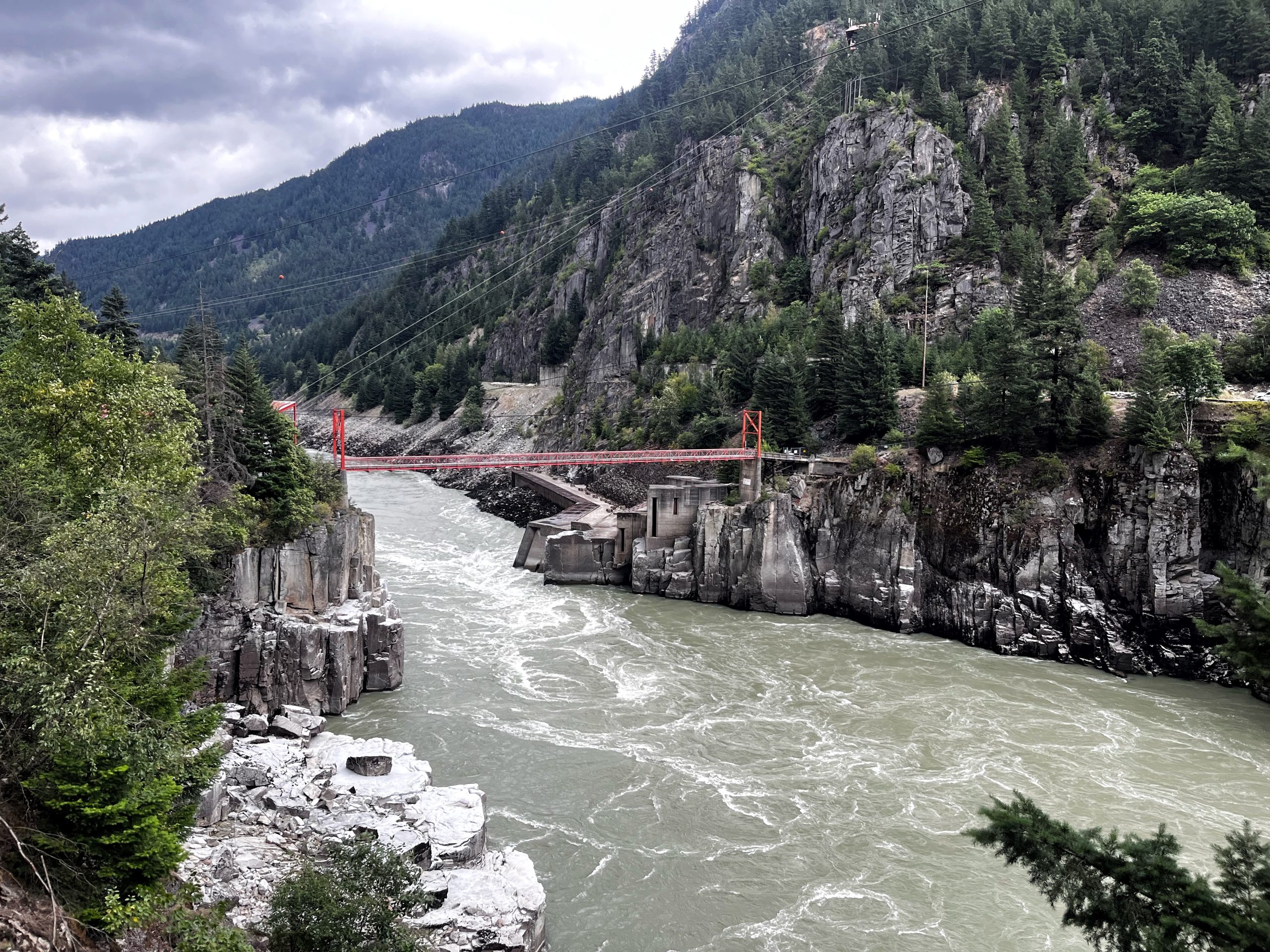 Further along the journey, another geological wonder, Rainbow Canyon, appeared just past Lytton, which is where the Fraser River becomes the Thompson River. A pop of colour bled into the rockface, Rainbow Canyon gets its name from the mineral deposits in the soil: copper turns green and purple when oxidized, iron paints the ground a burnt orange and red, while sulphur deposits leave streaks of brilliant yellow.
As we continued our journey to Kamloops, the landscape gave way from emerald green to beige, as the rolling valleys were replaced by dusty desert soil and hearty wild sage brush. With a semi-arid climate, Kamloops is also home to a series of rock and clay formations called hoodoos, which formed at the end of the last ice age. Spending an overnight in Kamloops, the second day of the journey took us through the glittering Shuswap Lakes region, which, with its sparkling lakes and rivers was a stark contrast to the dry and sparsely-treed South Thompson River valley we'd left behind. 
The final stretch of our journey from Kamloops to our end destination in Banff encompassed a 497-kilometre journey. As we passed through Salmon Arm and Revelstoke, just before Golden, we encountered the Stoney Creek Bridge. Located on the eastern slopes of Mount Tupper, the original wooden bridge was replaced in 1893 by a steel arch. By 1929, the weight from the new locomotives was so great that CP Rail was forced to redo the bridge a second time. Due to the terrain around the bridge, no other foundation could be used and so the new bridge was built directly on top of the old one. The new bridge, which remains in use today, spans 484 feet and hovers 295 feet above the creek bed.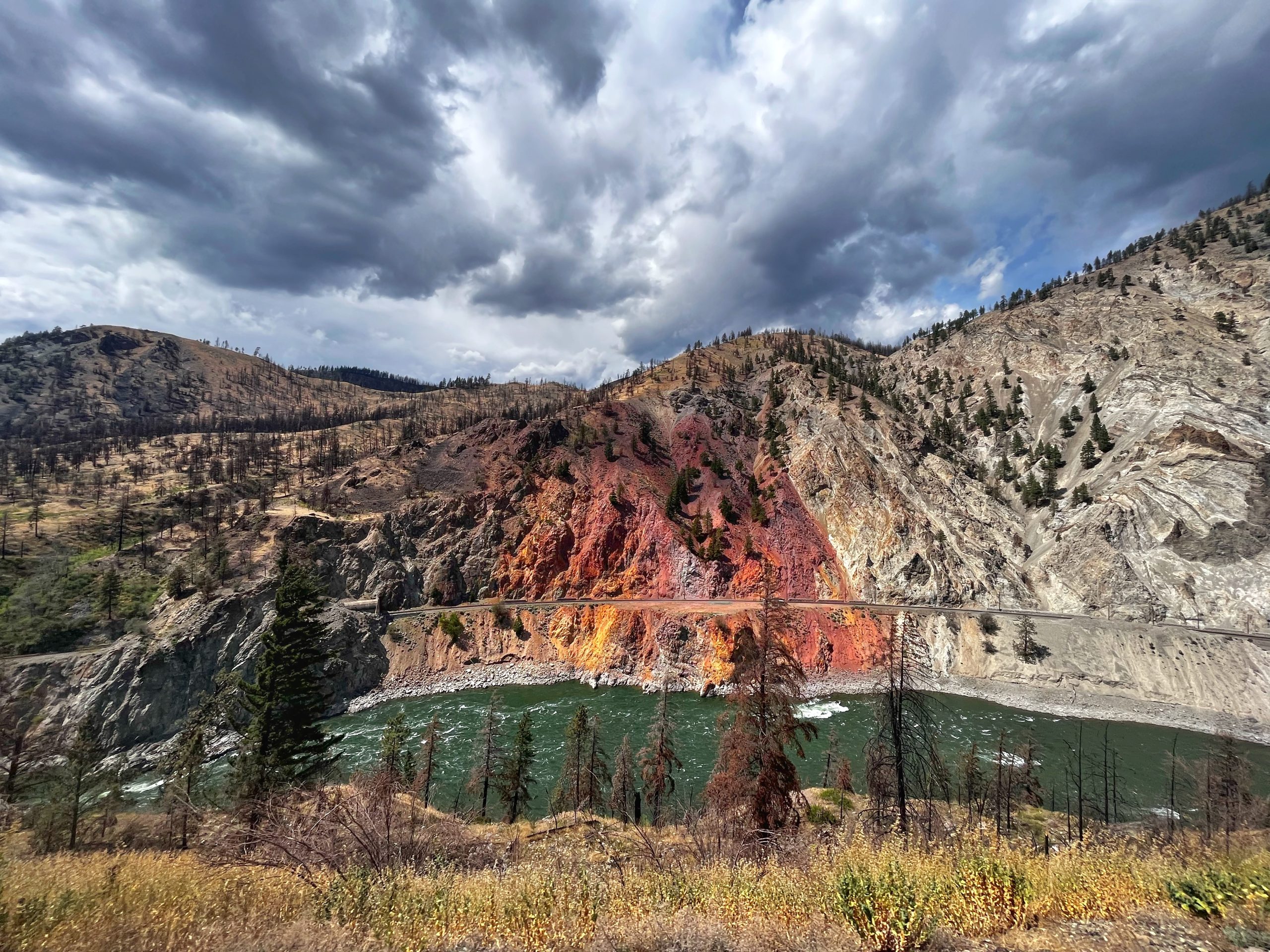 Just past Field, B.C., we came upon the famous Spiral Tunnels. During the first 23 years that the Canadian Pacific Rail was in service, one of its weakest links was the "Big Hill", a 13-kilometre stretch between the towns of Field and Hector. Built in 1884, the route was supposed to be temporary, because not only was it an incredibly dangerous run, but it caused enormous repair costs. In 1907, construction started on the Spiral Tunnels. Designed after a similar system in Switzerland, the project cost $1 million dollars and took 1,000 men 20 months to complete. As the train entered the tunnel, we shot into pitch blackness for several minutes. The Upper Spiral tunnel follows Cathedral Mountain, during which it turns 290 degrees and emerges 50 feet higher than its entrance. The Lower Spiral tunnels through Mount Ogden and also turns 230 degrees and comes out 56 feet higher than its starting point. The experience ultimately sees riders double back twice, while crossing the river twice as well, which, from the glass coach of the train, was visible on the opposite side of the coach once the tunnels ended. 
Though the landscape never swayed from trees, rivers and mountains, at no point did I ever close my eyes, both afraid of missing out on spotting my first-ever moose, but also because I was enjoying every minute of the ride. For the first time in as long as I could remember, I was fully present in my surroundings, unbothered and undistracted by the consistent pile of work emails and notifications that usually bombarded my phone—there's no WiFi onboard the train, and cell phone service is limited, which lets you disconnect and lose yourself in the journey, not to mention, connect with your host and fellow passengers.
Each route comes equipped with a dedicated on-board host who, through impeccable storytelling, expert knowledge and hospitable service, ensures your journey is as comfortable as it is memorable. 
On both mornings, my journey onboard started with a hot cup of coffee and a delicious treat, including a homemade lemon loaf baked by one of the chefs that same day. 
For GoldLeaf guests on Canadian routes, breakfast and lunch are served in a separate dining room coach with an exquisite menu helmed by Executive Chef Kaelhub Cudmore. Born and raised on Vancouver Island, Cudmore honed his skills and passion for the culinary industry at an early age. 
He has previously worked at Victoria's iconic Fairmont Empress Hotel and spent nearly a decade as part of the team developing the world-renowned Clayoquot Wilderness Resort into the exclusive Relais & Chateaux property it is today. He sailed aboard the top luxury cruise line, Seabourn, as a leader in the Thomas Keller program and has made guest chef appearances in exclusive resorts and destinations. 
With a deep passion for not only food but travel, experiential tourism became Cudmore's home as he worked through various locations offering everything from salmon fishing to heli-skiing. As an "ingredient-driven chef," he puts high-quality local ingredients at the forefront of his menu, supporting local agriculture and artisans in his kitchen while creating a connection between food and land.
"I want to reflect the scenery that guests see outside and bring it inside onto their plates," says Cudmore. This ethos is reflected in the meals he's created for Rocky Mountaineer, from iconic Canadian flavours and ingredients like the Alberta beef short rib, Dungeness crab-stuffed ravioli and Lois Lake steelhead trout, to the handmade pasta from Port Moody, bee pollen from Surrey and macarons from Granville Island that are incorporated into additional onboard snacks and meals. "Guests can see where their food comes from while they enjoy their journey," he adds.
As with the culinary program, Rocky Mountaineer's wine program reflects the Canadian landscape that guests can experience during their journey, with a robust selection of wine from British Columbia's most revered wineries. All alcoholic and non-alcoholic beverages including fresh juices, coffee and tea are also included and delivered to your seat in GoldLeaf coaches. 
This story first appeared in the Fall 2023 issue of OFFSHORE. To read the full digital version, click here.