Travel Manitoba says tourists can see some pretty impressive critters in the northern part of Manitoba and much farther south as well.

---
The tourism promotion body's Karin Schreiber told delegates at Rendez-vous Canada 2023 that those visiting the northern Manitoba community of Churchill can spot polar bears in a destination that bills itself as The Polar Bear Capital of the World, with guided tours providing sightings of the huge bruins.
Schreiber also told her late May Quebec City audience that Hudson Bay-fronting Churchill also has tours that enable people to spot some of the thousands of beluga whales that gather nearby in the summer.
Churchill-based Lazy Bear Expeditions has a "wildlife-viewing boat" that enables people to comfortably view belugas, and adventurous clients can opt for "beluga AquaGliding," which sees people wearing wet or dry suits and masks and snorkels lie on floating mats tethered to Zodiacs on the Churchill River or Hudson Bay. Curious but harmless belugas often approach the mats, giving tourists close-up looks at them.
"The belugas come close to the mat and follow it," Lazy Bear Expeditions' Melissa Perry later said of the "naturally curious" marine mammals.
Perry said clients are "on top of the water, not in it" but the provided wet or dry suits prevent them from getting wet from splashing.
More information can be found at lazybearexpeditions.com.
Schreiber also said that northern Manitoba's "cloud wolves of Kaska Coast" aren't wary of people, which in turn leads to sightings of them by nature enthusiasts who venture to the Hudson Bay-fronting region they live in.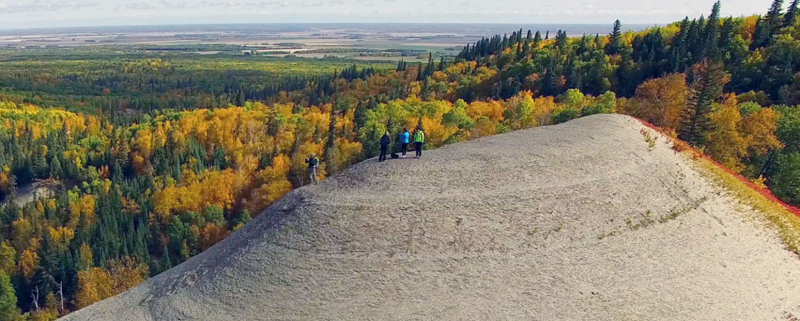 But she also noted that the "Prairie oasis" of Riding Mountain National Park — found in southwestern Manitoba — is home to such imposing creatures as bison, black bears and moose.
"Manitoba is best known for its compelling wildlife," Schreiber said.
She said the huge province has over 100,000 lakes and can provide great winter sightings of the Northern Lights.
Glamping's popularity increased during the pandemic.
But Schreiber also said visitors should experience urban Manitoba, adding "hustling and bustling" Winnipeg sees world-class performing arts performances.
Aviation enthusiasts will appreciate the city's Royal Aviation Museum,  she added.
Winnipeg's Qaumajug Art  Museum in turn has the largest Inuit art collection anywhere,  she continued.
Schreiber also noted that The Wyndham Gardens Ode Akiing Hotel (also called the Wyndham Gardens Winnipeg Airport Hotel) is Indigenous-owned. The hotel has Indigenous art and an Indigenous chef.
—IAN STALKER