DISCOVER BARBADOS DURING THE YEAR
OF WELLNESS & SOFT ADVENTURE
You can drive around the entire island of Barbados in just three hours; at just 34 km long and 22  km wide, it's a small country. But Barbados is big in style– an island nation steeped in history, pride, culture, sport, and a wealth of natural beauty, both rugged and coastal. Don't be fooled by the call  of the Caribbean, there's more to Barbados than its beaches, although those are pretty spectacular, too. This year, discover every side of the island during Barbados' year of wellness and soft adventure.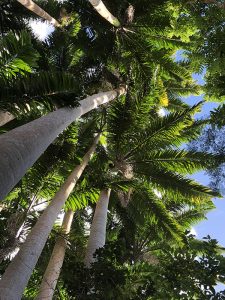 ISLAND SAFARI TOURS
Hit the open road with Island Safari Tours. Pile into an open-sided jeep that picks you up at your hotel and takes you on a back-
road adventure, zigzagging its way across the hills and fields of the interior of the island and along it's lesser-known coastlines. All the while, a friendly guide will stop along the way for photo ops and to make sure you learn the history and culture as you go. A  terrific way to spend the afternoon.
RUN BARBADOS
Runners from around the world flock to Bridgetown, Barbados, each December to participate in the Run Barbados Marathon
weekend. Festivities kick-off Friday night with a one-mile run divided into five heats: elite women, elite men, amateurs, children, and a fun run. Saturday afternoon, the festivities amp up with live music, stilt walkers, and crowds gathering to cheer on the 5K run, 5K walk, and 10K run participants. The half and full marathons begin Sunday at 4 a.m. to avoid the punishing Caribbean heat. All races start from picturesque Carlisle Bay with race routes winding their way through historic downtown. Streets are often
lined with locals cheering on the runners. Races are professionally timed for serious runners, but still festive and light-hearted enough for casual participants, too.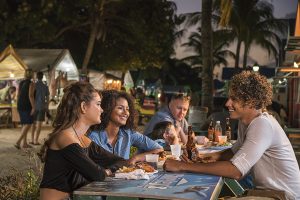 CULINARY ADVENTURES
For a five-star foodie adventure, head to Oistin's Fish Market on Friday nights. Locals and tourists alike come here to savour the daily catch that fishermen fry, grill, and BBQ at this open-air night market. Lively music and dance, a craft market, and delicious food make this a party you shouldn't miss. Not sure what to order? Communal tables mean you can ask the person seated next to you. But don't miss the dangerously sweet rum punch, traditional macaroni pie, and world-famous fishcakes. Worth the wait
in line.
UNLEASH YOUR INNER EXPLORER
Spend an afternoon exploring the magnificence of Harrison's Cave, a crystallized, limestone cave characterized by flowing streams, deep pools of clear water, and towering columns. Measuring 2.3 kilometres long with the Great Hall an awe-inspiring 15 metres high, Harrison's Cave is considered active, as it carries water and its stalagmites are still growing. There are a variety of ways
to explore the sights and sounds of the cave's running streams and waterfalls: enjoy a comfortable guided tram tour, grab your helmets and headlamps for a three hour discovery tour of the cave just as the early explorers did, or travel the cave by foot for a closer look at the formations.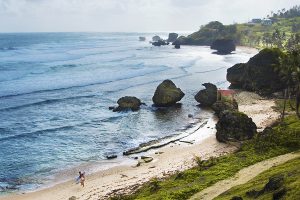 ON THE WATER
Relax on the deck of a Cool Runnings catamaran as you sail the crystal-clear Caribbean waters. Spend a full day on the water, with snorkelling stops to see shipwrecks and sea turtles, then anchor in one of the many beautiful coves of Barbados to enjoy a delicious traditional lunch. Sunset dinner cruises are also available, as well as private bookings for special occasions. For more active adventure, find your stoke at Barry's Surf School. Whether you're new to surfing or a weekend warrior, you'll be hanging ten in
no time. Try Barry's two-hour introductory course or more advanced three-day "surf stronger" package.
WALK ON THE WILD SIDE
Perched high in the hills of St. Joseph Parish, take in Barbados' breathtaking east coast views at Naniki. Proprietor Tom Hinds, welcomes you to his peaceful property with 10 cozy self-contained cottages, pool, restaurant, and new wellness centre. Get back to nature with hiking, biking in the countryside, yoga classes, or by visiting nearby Bathsheba Beach's incredible coastline.
Story by ASHLEY ROCHEFORT