Day | Night
Singapore was already the most buzz-worthy city in Asia, but then the film Crazy Rich Asians came along and kicked it up a notch, giving Singapore, a small but mighty city-state in Southeast Asia, a new level of world recognition.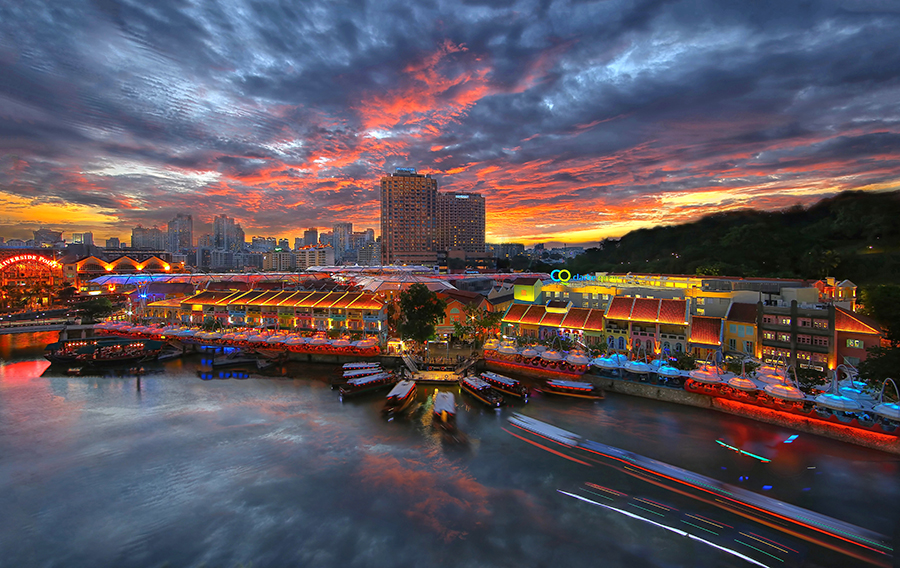 CHECK-IN
Many will be drawn to the eye-popping Marina Bay Sands (marinabaysands.com), whose three towering tiers are an iconic landmark for Singapore. A stay there includes access to the amazing Sky Park with its two rooftop pools. On the other hand, consider a quick escape from the city at the Capella Singapore (capellahotels. com) on nearby Sentosa Island. This luxury property has a quiet seafront location and upscale colonial vibe. EAT Yes, Singapore has all the premium dining options that could be expected and desired. But why not try the cuisine that is part of everyday life in Singapore and offers a delicious blend of cultural influences? Hawker centres (visitsingapore.com) are convenient collectives where individuals operate small cooking stalls and specialize in preparing specific dishes. Favourites such as laksa, chicken rice, curries and satay can be had at insanely low prices, and enjoyed in an authentic, bustling setting. Don't miss the stalls that have achieved a Michelin star rating, like world-famous Liao Fan Hong Kong Soya Sauce Chicken Rice & Noodle.
GREENERY
Gardens by the Bay (gardensbythebay.com) is an award- winning horticultural destination that spans 101 hectares of reclaimed land on Marina Bay. Its massive Supertrees are vertical gardens that reach up to 16 storeys in height.
COLONIAL KICKS
Step back in time at the Fullerton Hotel (fullertonhotels.com) on the Singapore River. The old-world ritual of afternoon tea in the Courtyard, or Cantonese dim sum in Jade, can be followed by cocktails at the Lantern Rooftop Bar.
SHOP
Get your retail therapy at the newly opened Design Orchard (visitsingapore.com), which showcases over 60 local fashion brands on the premium shopping mecca, Orchard Road.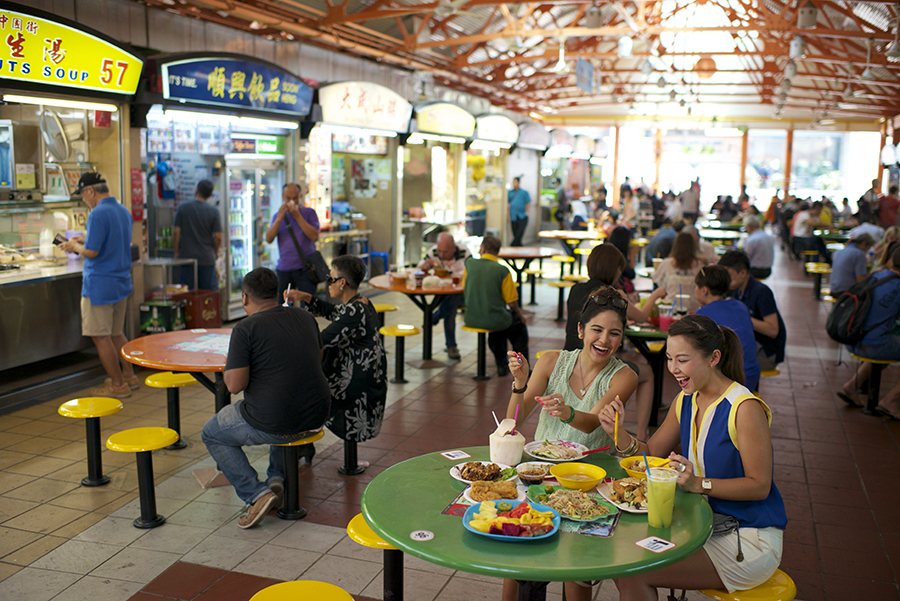 Day | Night
When the hot, hot heat of the tropical sun fades into night, Singapore comes alive with the evening's more moderate temperatures.
SAFARI
The Singapore Zoo Night Safari (wrs.com.sg) invites visitors to embark on an after-dark adventure under bluish lights on grounds that house over 2,500 creatures, including the Asian elephant, Malayan tapir, and Malayan tiger.
ON TRACK
Every globetrotter should  attend a Formula 1 race at some point, and the F1 event in Singapore is amongst the most glamorous (www.singaporegp.sg). The "Monaco of Asia" waits until the night time to start the race under super-bright track lighting. The race runs near the end of September.
SINGAPORE SLING
It is a visitor's imperative to make a stop at the historic Raffles Hotel (raffles.com/singapore). It houses the Long Bar, which is where the Singapore Sling was first concocted. Be prepared to pay handsomely for a big glass of the sweet, potent drink.
LATE
The Singapore River is lit by the many clubs and bars that line the river banks at Boat Quay and Clarke Quay. The hot tropical sun is gone, but the humid tropical night remains, welcoming outdoor dining, imbibing and revelry.
DEPARTURES
End your trip on a high note! Already known for its lush indoor gardens, Changi Airport (changiairport.com) has this year opened the new Jewel attraction, composed of a giant, glass-topped atrium  that features a forest valley, canopy park, canopy maze and the plunging Rain Vortex.