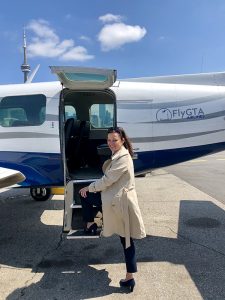 What's worse than the bumper-to- bumper summer traffic heading north from Toronto on a Friday afternoon? The car is cramped, tempers flare, kids melt down, everyone's hungry, and we're not even past the city limits yet. What should be a 90-minute drive turns into a mind-bending, patience- testing three-hour crawl. Well, what if I told you there's a better way? This May long weekend — the unofficial start to summer and the official start to cottage season — instead of taking to the highway, I boarded a 40-minute flight from downtown to Muskoka. I could get used to this…
11:25 AM After a quick and friendly check-in, I take a seat in the comfortable lounge at Fly GTA Airlines at Billy Bishop Airport. With free WiFi, ample magazines, and complimentary refreshments, I take a few moments to relax before heading out on the tarmac.
11:51 AM Unlike traditional flights, as soon as all the passengers are checked-in, we can board the plane. Staff are eager to assist with luggage, if needed. A brief welcome from the pilot, seat belts buckled, and we're ready to go!
11:56 AM Time for take-off. Nothing quite like an aerial view of Toronto's incredible skyline. On board, I meet fellow passengers and cottagers from Lake Rosseau, Michael and Shea. It's also their first time flying north for the weekend. "This couldn't be easier,"exclaims Michael. "Better than traffic." My thoughts exactly.
12:10 PM Soaring just above the clouds now. A signal is spotty at this altitude, but I did manage to get in a few business texts, with pictures, of course. Sitting back, enjoying the scenery, I feel relaxed already. What a start to the long weekend!
12:17 PM There's no mistaking the enormous, deep blue of Lake Simcoe. I can almost taste cottage country now.
12:26 PM Zipping past the cottage- country traffic starting to build on Highway 11.
12:32 PM The scenery grows ever more familiar, as we enter deeper into cottage country. Lakes dotted with islands and windswept trees: Muskoka's rugged landscape starts to take shape.
12:36 PM And, in no time at all, we've landed at Muskoka Airport. I'm impressed with the service, the ease — what a stress-free way to start the weekend. Back on the ground, I ask Michael and Shea if I might see them again on another flight this summer. "Oh yes, the value of your time and decreased stress level is worth it, it's a no-brainer," Michael replies. FlyGTA Airlines (flygta.com) offers flights to Muskoka Thursday through Tuesday throughout the summer months. Check back often for rates and scheduled flight times. Need a ride? FlyGTA can also arrange for airport transfers. I, for one, will be taking this route as often as possible.
Hope to see you on board!
Story by WENDY MCCLUNG