Longest flights in the air by Singapore Airlines
Our planet is massive, and there's no way around it without spending many hours in the air. But  Singapore Airlines is taking some of the sting out of the transcontinental, transoceanic travel experience. It's called the AIRBUS A350-900 ULTRA LONG RANGE, an airplane specifically designed to bridge
the gap between North America and Asia as quickly as possible.  Of course, the best way to accomplish the briefest possible travel time is to stay in the air and avoid connecting flights. This plane is capable of flying further in commercial service than any other, and Singapore Airlines is the first airline to deploy the aircraft. Singapore Airlines will launch nonstop  services between Singapore and New York, Los Angeles, and San Francisco this fall. With a flying time of up to 18 hours and 45 minutes, these will be the world's longest commercial flights.
Passengers will be treated to an inflight experience that includes an improved air circulation system and cabin pressurization to a lower altitude, as well as higher ceilings, larger windows and 16 million LED lighting options to allow for optimal inflight rest. Passengers will also have access to videos in the inflight
entertainment system that have been created with the participation of award-winning Canyon Ranch, a leading wellness brand. These focus on ways to maintain health and wellness during the flight with described, illustrated exercises.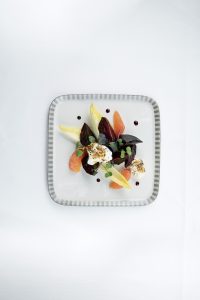 The inflight menu has also been advised by Canyon Ranch with those same wellness goals in mind. For instance, passengers in business class can look forward to enjoying prawn ceviche and lavosh with orange, cucumber, grapefruit, cilantro, scallions, and bell pepper, as well as braised pork with citrus and white bean cassoulet with spinach The lie-flat seats in business class are arranged in a 1-2-1 configuration, giving all passengers access to an  aisle. Don't forget to download the myKrisWorld app before take off, allowing you to create playlists of your favorite movies and music before you board. In addition, the system bookmarks your content, so that a program cut off at the end of a flight can automatically resume at the same spot during the passenger's    next SIA flight.
Get on board and relax! Book your next trip on Singapore Airlines at singaporeair.com.
Story by Ted Davis