Christmas markets in Europe are a sensory experience. From picking up and touching artisanal products, to sifting through a heavenly assortment of homemade baked goodies; to graciously sampling chocolate or cheese, there is so much to see and do. Some of the world's most beloved Christmas markets in years prior, after a two-year hiatus, have returned, back with measures to ensure that your experience is as safe as it is memorable.
Safety protocols in place, combined with high vaccination rates and low case counts, has earned several countries a spot on the list of Europe's safest Christmas markets. While Germany, France, and Austria have world-famous set-ups, this year, Eastern Europe continues to enchant.
Story by Christine Hogg
Estonia's capital city is home to an annual Christmas market that takes place from Nov. 19 to Jan. 2, 2022 at the Town Hall Square, in the centre of Tallinn Old Town. Every year since 1441, a towering Christmas tree is set up in the middle of the market and decorated in a display of dazzling lights. This year, the festivities will extend throughout the city's Old Town. Estonia is currently open to fully vaccinated travellers with zero restrictions in place, which means this year's Christmas market will be in full swing, with local artisans selling everything from traditional Estonian cuisine to hand-painted ornaments.
Many of the various products and goods found in Talllinn's Christmas market can't be found anywhere else throughout the year, including fur coats and hand-carved wooden ornaments.
(visitestonia.com/en/tallinn-christmas-market)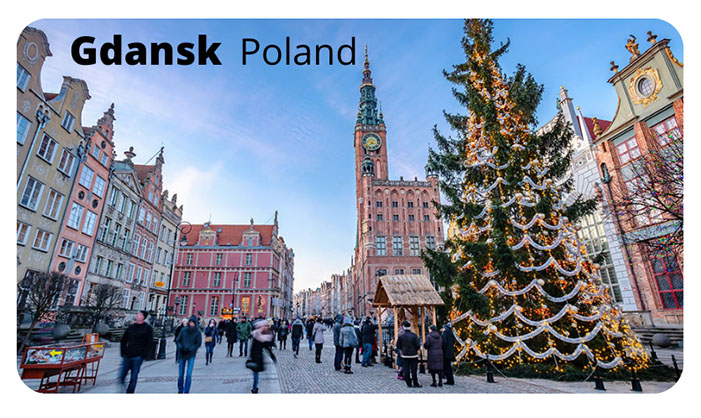 The Gdańsk Christmas Fair runs from Nov. 23, 2021 to Jan. 1, 2022 in Targ Węglowy, which is a square in the city centre. Don't miss the beautiful Christmas tree next to Neptune's Fountain at Long Market (Długi Targ), or the ferris wheel on Granary Island (Wyspa Spichrzów)., which, despite sounding like a remote spot, can be reached in five minutes by car from Gdansk's main square. During the Christmas fair, four street names have been cleverly changed to Chocolate, Cinnamon, Angel or Christmas Eve Street. For the very first time, a five-metre-tall gate that's decorated with Gdańsk's largest advent calendar will open a new window every day to mark the Christmas countdown.
Santa himself will be at the fair starting Dec. 6, handing out sweets to children. Since the market is located right in the old town, there are also plenty of side streets to wander down to do some last-minute Christmas shopping at the many inviting boutiques.
(poland.travel/en/travel-inspirations/the-annual-gdansk-christmas-market)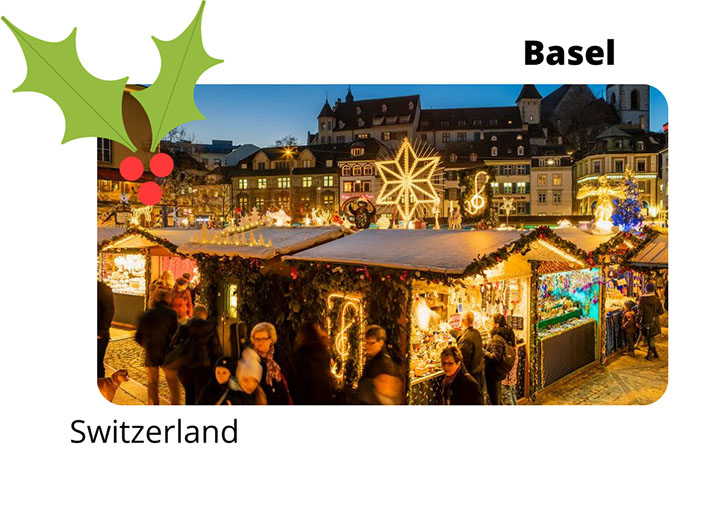 Taking place this holiday season from Nov. 25 to Dec. 23, 2021, Basel's Christmas market can be found in the centre of the Old Town in the cozy squares of Barfüsserplatz and Münsterplatz. With two Christmas markets on offer, visitors can expect no shortage of ways to get into the holiday spirit. At the Barfüsserplatz, market stalls with white roofs offer an assortment of handmade ornaments, gifts, and treats, including famous Swiss fondues and milk chocolates. The Christmas market at Münsterplatz is set at the base of the breathtaking Basel Minster cathedral, done in Romanesque and Gothic architecture, and dating back to the year 1019. At Christmastime, more than 180 vendors are on site, and food plays a major role, with all kinds of delicacies, sweet and savoury, available for purchase to eat on site or to take home, including the famous Swiss raclette and sizzling grilled sausages. This year, there's plenty to see and do. Guests can enter St. Martin's tower from Dec. 2 to Dec. 20 to take in the sea of tinkling lights across the square. The Basel Wish Book has also returned for another year, and allows visitors from around the world to write a special note to Santa Claus, or send well wishes out into the world.
(basel.com/en/events/christmas/christmas-market)
Considered the oldest Christmas market in Germany, and the oldest authentic Christmas market in the world, the Dresden Christmas market (also called the Striezelmarkt) began as a one-day event back in 1434. Now in its 587th year, the Dresden Christmas market takes place this year from Nov. 26 to Dec. 24. and is one of the best Christmas markets suited for children and families, thanks to attractions like a puppet theatre, merry-goround, and a children's railway in recent years. A stretch of the market on the Prager Straße, known as Winterlights of Dresden, features a 15-metres high Christmas tree as well as a series of dazzling light displays. Meanwhile, the Christmas market at the Frauenkirche, one of the city's most historical churches, includes an eight-metre tall climbable pyramid that's covered in handcarved wooden figurines, and a series of traditional products for sale by local craftsmen.
(dresden.de/en/tourism/attractions/events/christmas-season/dresden-christmas-markets.php)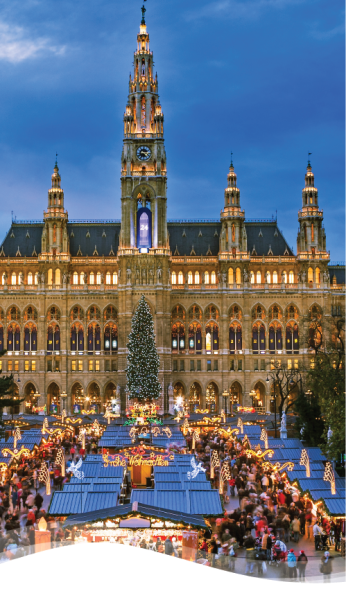 Whether it's the smell of roasting chestnuts or the draw of the countless markets selling artisanal products that lures you in, Vienna is a must-see destination around the holidays. The city's Christmas markets date back to medieval times, when in 1296, permission to host Vienna's first-ever Christmas market was granted by the Duke of Austria, Albrecht I. Just like the age-old carol, The Twelve Days of Christmas, Vienna has a total of 12 Christmas markets and pop-ups taking place throughout the city. Not to be missed are the Christmas Village at Belvedere Palace (Nov. 19 – Dec. 26) and the Christmas Market at Schönbrunn Palace (Nov. 20, 2021 – Jan. 2, 2022). Both markets have enchanting backdrops that show off some of the city's most famous Baroque-style architecture, and serve an assortment of tasty Austrian treats, like freshly-baked gingerbread, sugar pancakes with raisins, and mulled wine.
(austria.info/en/things-to-do/skiing-and-winter/christmasmarkets/vienna
)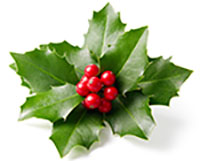 Over the years, Croatia has emerged as a leading Eastern European travel destination, thanks to its stunning beaches, impressive culinary scene, and overall affordability. Advent Zagreb is the capital city's take on a Christmas market. While dates are still being finalized, the Market normally begins on the Saturday before the first Sunday of Advent and runs through the first week of January. While Advent Zagreb used to be a Christmas market confined to a square, two years ago, the decision was made to expand it into an experience to be had throughout the city. From cheering on runners of the Santa Claus race, to visiting the giant tree at St. Mark's Church, or grabbing a tasty Croatian pastry (try the savoury bureka or the poppyseed roll) from one of the many stalls set up around town, there's no shortage of festive moments this time of year. (
visitcroatia.com/christmas-markets/christmas-in-zagreb/
)