It's been just over a year since Canada entered an economic shutdown that saw a majority of businesses transition their employees from an in-office, five-day work week to a remote work-from-home culture. According to Statistics Canada, at the beginning of 2021, 32 per cent of Canadian employees aged 15 to 69 worked most of their hours from home, compared with just four per cent back in 2016, and the number continues to increase.
While some employees are eager to swap their sweatpants for slacks and their slippers for heels once more, studies show that working from home has more benefits than disadvantages. These benefits include increased productivity, reported feelings of enhanced overall wellbeing and mental health, and financial savings, as daily spending on things like commuting costs, food and drink, and business attire have been eliminated. In fact, large proportions of individuals have reported accomplishing more work per hour (48 per cent), which can be due in part to less in-office distractions like chatty coworkers, meetings, or other interruptions. As a result, more employers are seeing the value in keeping their employees home, integrating various communication channels to adjust to the new normal. Remote work has also seen a rise in "work-from-anywhere" culture, so long as the employee has a stable internet connection and can
communicate with the employer. In anticipation of another year of remote work culture, here are four properties in the U.S. and Canada to consider for 2022.
Story by Christine Hogg
Four Places in North America to Check In When You're Feeling Checked Out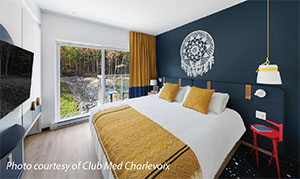 Opening Dec. 3, 2021, Club Med Charlevoix will be Canada's first-ever all-inclusive, all-season resort. Set on the St. Lawrence River in the Quebec wilderness, approximately an hour's drive from the heart of Quebec City, Club Med Charlevoix is a 302-room resort that was designed to reflect the local landscape.
There are several cozy room categories to choose from, but the Exclusive Collection Suites offer the perfect work-from-home set-up, with a beautiful spacious living room, an oversized bathroom, and breathtaking views of the St.Lawrence River. Guests of the suites also have access to the premium Exclusive Collection Space "Le Saint-Laurent" that includes concierge service and a cozy welcome lounge with a fireplace, which is another perfect spot to get some work done. As an all-inclusive resort, guests of Club Med Quebec Charlevoix can enjoy perks like an in-room mini-bar that's restocked daily, free unlimited high speed Wi-Fi throughout the resort, all-day gourmet dining and bar options, and more. When the work day is done, unwind with a dip in the heated pool, take a trip to the sauna that offers a panoramic river view, or take advantage of one of many included activities, like ice skating or snow-shoeing through the woods.
Rates for Club Med Quebec Charlevoix start as low as $210 per adult per night. The nearest airport is Quebec City Jean Lesage International Airport (YQB).
(clubmed.ca/r/quebec-charlevoix/w)
GRADUATE ROOSEVELT ISLAND
Looking for a different kind of island escape this winter? The Graduate Roosevelt Island is a colourful, scholastic retreat in the middle of the East River on the Cornell Tech Campus. In the lobby, guests are greeted by 5,000 square feet of floor-to-ceiling bookshelves, which are the ultimate setting and inspiration to get to work.
There are four room categories available, including two suite classes. Each room is done in contemporary style, and comes equipped with a writing desk and complimentary Wi-Fi. The hotel's largest suite, the Presidential, can be found on the seventeenth floor and includes a spacious living room with floor to ceiling views of the Queensboro Bridge. For those who intend to stay a while, other amenities include a full-sized fridge and dining room table, which makes cooking an option. There are three restaurants on site, including a coffee cart that offers the perfect pick-me-up for in between those morning meetings. Recognizing that many travel with their pets, the Graduate also offers a special Pup Package– during your stay, your room will include a bed, bowl, and treats for your furry companion, and you'll both have access to the dog runs on the island.
The Graduate Roosevelt Island is easily accessible by taking the F Train, the Roosevelt Island Tramway, the NYC ferry, or by car – from Toronto, it's about an eight-hour drive. Alternatively, guests can fly from Toronto's Billy Bishop Airport (YTZ) aboard Porter Airlines, and get to Newark Liberty International Airport (EWR) in an hour-and-a-half. The Graduate Roosevelt Island is then an hour away by car or public transit.
(graduatehotels.com/roosevelt-island/hotel/)
POINTE HILTON TAPATIO CLIFFS RESORT
For those who want the added perk of escaping the cold Canadian winter while continuing to work remotely, the Pointe Hilton Tapatio Cliffs Resort is the perfect solution. Conveniently located 15 minutes from downtown Phoenix and 20 minutes from Sky Harbour International Airport, this desert oasis is a 584-all-suite resort that doubles as a stand-out golf and wellness retreat. All of the spacious two-room suites include wired and wireless internet access, a separate living area with a desk and chair, a private balcony (which doubles as a nice spot to work outside), and dual line telephones with data ports.
Sneak in a round of 18-hole golf on your lunch break (we won't tell your boss!) at the resort's award-winning Lookout Mountain Golf Course, with the Sonoran desert and towering Phoenix North Mountains as a backdrop. There are four restaurants on site, including fine dining options. There are also a selection of grab-and-go options for coffee and a light breakfast. An ideal home away from home for Canadians this winter, Pointe Hilton Tapatio Cliffs Resort also has a number of discounted packages available that offer great perks for extended stays, including daily complimentary dining vouchers.
(tapatiocliffshilton.com)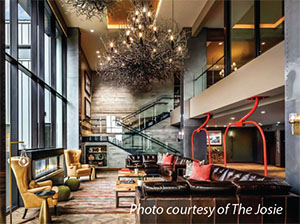 Luxury boutique hotel The Josie recently became a part of Marriott International's exclusive Autograph Collection Hotels portfolio. The perfect retreat for both relaxation and inspiration, The Josie is an upscale ski-in/ski-out 106-room property that sits at the base of RED Mountain Resort, an independent, 3,850-acre winter and summer playground, ranked ninth largest in skiable acres in North America. The remote location of the hotel in Rossland, BC provides a sense of escape from everyday 9 to 5 responsibilities.
With a collection of stylish guest rooms and suites designed to bring the outdoors in, alongside crackling fire pits, a premier spa and fitness facility, and ski concierge services, The Josie offers the ultimate work-from-home away from home experience. All of the beautifully-appointed rooms offer a functional workspace complete with a table and chair. For guests who prefer to work outside of their rooms, the downstairs lobby is outfitted with plush leather couches and floor-to-ceiling windows that offer stunning views of the resort year-round. The Josie is located 35 minutes away from the West Kootenay Regional Airport, which is served by Air Canada/Jazz. An airport shuttle bus service, Mountain Shuttle, operates daily between Castlegar and Rossland.
(www.thejosie.com)