Lithuania's captivating natural wonders, including pristine lakes, enchanting forests, and massive sand dunes, offer a myriad of stunning landscapes for nature enthusiasts this summer.

---
As the summer season reaches its peak, Lithuania's treasure trove of natural wonders are bound to captivate the hearts of visitors and locals alike. From over 3,000 pristine lakes, 90 kilometres of the Baltic Sea shoreline, and enchanting forests that blanket more than 30 per cent of the country, this Baltic gem offers a myriad of stunning landscapes for nature enthusiasts to immerse themselves in.
Here are five nature spots not to miss during your Lithuanian summer adventure.
Neringa is a top seaside location for every Lithuanian summer, mostly characterized by its massive moving sand dunes. Due to efforts to manage nature long ago, pine woods now dominate the area, yet parts of the historic dunes still remain entirely untouched.
On the 1.1 km walk of the Nagliai Nature Reserve, visitors may come to the peculiar natural phenomenon known as dead sand dunes. A few centuries ago, powerful winds formed a strange landscape of hollows and washouts that exposed the soil of a long-dead forest that was buried in the sand. The Curonian Spit — a UNESCO-listed peninsula with a carefully protected ecology —  is capped with unlimited vistas.
Nida's Parnidis Dune is one of its most beautiful sites. At 52 m, it is one of Europe's tallest dunes and provides a beautiful view of infinite sandy beaches that mingle with aromatic pine trees.
A therapeutic walk among junipers
The 1.3-kilometer-long Arlaviškių — or Juniper Valley — nature trail, located just outside Kaunas, Lithuania's second-largest city, welcomes visitors to appreciate the wonderful vista of the expanded Nemunas river, Dabinta Island, and the picturesque surrounding outcrops.
The trail's uniqueness is more readily apparent now that it has been renovated: naturally grown on a steep slope, with patches of steppe grassland between the juniper trees and in other parts of the reserve that are home to rare plants, mushrooms, springs with forming tuffs, and even hanging wetlands. Furthermore, the air here is particularly pure due to essential oils secreted by junipers. According to some folk medicine practitioners, the aireven has a therapeutic value.
Treetops at a touching distance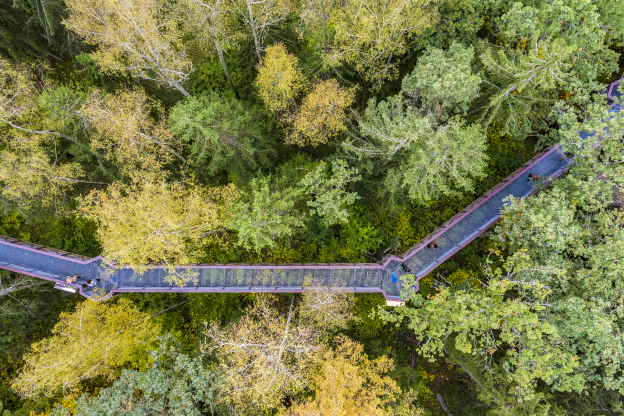 The Treetop Walking Path in Anykščiai was the first trail in the Baltic States and in the whole of Eastern Europe where it was possible to walk at treetop level. At the end of the trail there is an observation tower, the height of the observation deck is 34 m.
This unique architectural structure is one of the most visited tourist attractions in Lithuania, as no other location offers the chance to walk among the tops of trees at an altitude of over 20 meters. From this height, the winding Šventoji River Valley unfurls in all its undisturbed beauty, with romantic peaks of the highest church towers — St. Matthew's —  in Lithuania, popping up from the sea of green.
An ever-evolving landscape
Biržai's surroundings are full of surprises. It is a one-of-a-kind land where the earth's surface affects the landscape, with land collapsing in the most literal sense. This occurs when groundwater washes away gypsum deposits in the earth.
Above this special landscape and the local karst lakes looms the Kirkilai Observation Tower, which has a distinctive form — resembling a canoe or a sinking boat. The height of the tower is almost 32 meters, meaning visitors can take in the full-breadth of the surrounding landscape. In summer, under certain conditions, the lakes take on different colors — becoming painted with various shades of green and blue.
Mysteries of Lithuania's pagan heritage
The Dūkštai Oak Grove Nature Trail meanders through one of the oldest and largest natural oak forests in Lithuania. Among the undergrowth of 200-year-old oak trees there are several species of rare and endangered animals, plants, fungi, and lichens that call the grove home.
As these trees were worshiped as gods several hundred years ago, wooden statues made in their honor can be discovered by those who wander through the area. Adding to the mystic energy of the park is the Airėnai Stone, with runes etched onto it whose meanings are still a mystery to mankind.