Island Indulgence In Barbados
Collectively known as UNNA Luxury Resorts & Residences, Saint Peter's Bay and Port Ferdinand resorts offer a heady combination of laid-back luxury, personalized Bajan service, and unforgettable vacation experiences.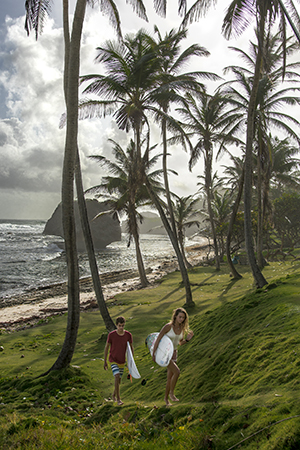 Located just five minutes from historic Speightstown, Saint Peter's Bay sits on an enviably secluded stretch of palm-fringed beach, visible from each of its two-, three-, and five-bedroom villas. Each luxuriously appointed, family-style villa boasts traditional Barbadian architecture and finishes, generous floor plans that maximize open living spaces, breathtaking views, and privacy. Sweeping terraces with spa pools, fully equipped kitchens, and beautiful ensuite bedrooms are accented with marble tiles, white-washed cedar joinery and coral mouldings. Saint Peter's Bay's award-winning amenities, including a winding lagoon-style pool, oceanfront dining from The Gazebo Bar & Grill, and access to sister resort Port Ferdinand, make it perfect for discerning families.
Set around a majestic 120-berth marina, Port Ferdinand delivers a stunning selection of one-, two-, and three-bedroom villas. Each beautifully designed villa features marble and limestone finishes, coral stone walls, a fully equipped open-plan kitchen, expansive living spaces, and luxuriously outfitted grand master bedrooms and bathrooms. Port Ferdinand also boasts a world-class array of amenities and services, including a fine-dining harbourside experience at 13/59 Restaurant and Bar Lounge, The Quarterdeck Poolside Bar & Pizzeria, The Sandbox Tree Spa, a fully equipped fitness centre, indoor and outdoor kids' clubs, as well as an adult recreation centre and golf simulator. Partnering with Nikki Beach, Port Ferdinand recently opened the luxury lifestyle and hospitality brand's second Caribbean beach club location. On 1.4 acres of beachfront near the mouth of the marina, the club consists of a restaurant, pool, and oceanfront seating for up to 200 guests.
Whether your Barbados dream is a romantic escape, a wellness retreat, or a family vacation, UNNA's Saint Peter's Bay and Port Ferdinand luxury resorts are sure to check all the boxes, combining privacy with exceptional service and stylish living with world-class amenities. For more information, visit stpetersbaybarbados.com and portferdinand.com.
TROPICAL FOODIE ADVENTURE
This is the Year of Culinary Experiences in Barbados. Here's everything you need to know: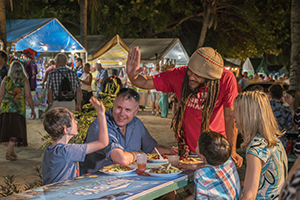 > Barbados blends the flavours and influences of African, Caribbean, European, and Asian cooking to create the island's unique Bajan cuisine.
> Barbados was the first and remains the only island in the Caribbean to be Zagat rated There are more than 100 restaurants around the island, including sophisticated 5-star dining experiences like The Cliff www.thecliffbarbados.com or Cin Cin www.cincinbythesea.com
> Don't miss the national dish Cou-Cou and Flying Fish. This savoury dish is made of cornmeal and okra and served with Flying Fish prepared in any style.
> No shirt, no shoes, no problem at casual beachfront eateries like Bombas, Bo's Plaice and JuJus offering up fresh and tasty authentic fare.
> For the best in Bajan cuisine, check out the 9th annual Barbados Food & Rum Festival October 18-21, 2018 visitbarbados.org/food-and-rum-festival
BEACH HOPPING
Straddling the Atlantic Ocean and Caribbean Sea, Barbados' coastlines vary from gentle beaches to rugged cliffs. The West Coast, where many of the island's hotels are located, is home to idyllic shores ideal for swimmers and sunbathers. Needham's Point and Dover Beach, in the South, are best for snorkelling, while Bathsheba on the eastern edge is popular with surfers, featuring miles of untouched coastline.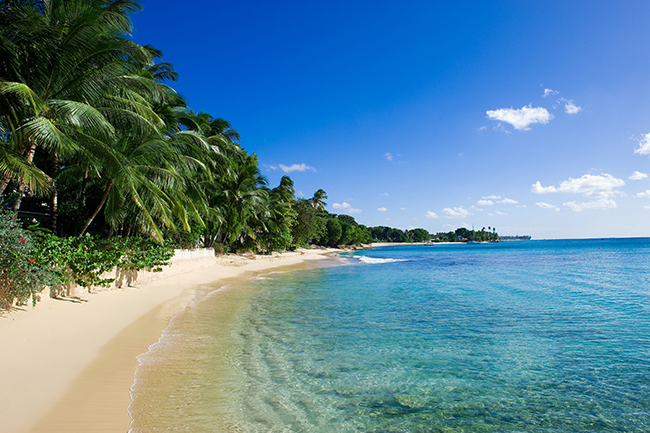 CATAMARAN CRUISING
Relax on the deck of a luxurious catamaran while gliding over the sparkling, crystal-clear Caribbean waters. At lunchtime, anchor in one of many beautiful coves of Barbados, and enjoy a sumptuous meal prepared by one of the Caribbean's top chefs.
Story by IAN STALKER