Old meets new in Korea, a country of contrasts. With more than 5,000 years of ancient history, expect to be transported with the country's time-honoured, sophisticated traditions and, at the same time, charmed by the unabashed enthusiasm for trendiness and the rise of K-culture.
Located in Northeast Asia, the Korean peninsula is surrounded by water on three sides and comprised of 70% mountainous terrain, making South Korea the ultimate destination for outdoor adventures and sightseeing. In contrast, Seoul, the capital and heartbeat of the country, is a worldclass city known for its safety, cleanliness, culture, and cuisine. Korea also boasts 14 UNESCO World Heritage Sites from Bulguksa Temple and Seokguram Grotto in Gyeongju; Jongmyo Shrine, Changdeokgung Palace, and Royal Tombs of Joseon kings in Seoul; to Hahoe Village in Andong; and Yangdong Village in Gyeongju. This rich history, culture, and geographic diversity combine to attract travellers from all over the world, with approximately 17.5 million foreign tourists visiting Korea annually. On this journey, delve deeper into the intricacies of Korean cuisine where seasonal ingredients plus exciting preparations equal a new world of flavours and the allure of traditional hanoks, or guesthouses, offer perfect calm and luxurious amenities for tired travellers. See for yourself that Korea is quickly becoming an epicentre of attention for the world's tourists, who are increasingly drawn to this special country where the past, present and future are found side by side.
WELCOME TO SEOUL 
Naturally, the best place to start when visiting Korea is Seoul. It was Yi Seong-gye, the first king and founder of the Joseon Dynasty, who established modern-day Seoul as the capital city. The royal palace and shrines were erected first, and then a protective fortress connecting Bugaksan, Inwangsan, Namsan, and Naksan Mountains were built. Today, the city provides intriguing contrasts between the ancient and modern. Cities in Europe tend to separate the old from the new, but in Seoul, pre-modern structures and contemporary buildings stand shoulder to shoulder to create a unique cityscape.
CITY HIGHLIGHTS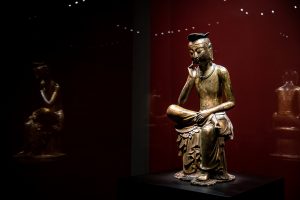 Shopping enthusiasts should consider a visit to the Seoul Bamdokkaebi Night Market, which appears at night and vanishes by sunrise. The market runs each year from April to October at Yeouido Hangang River Park, Banpo Hangang River Park, DDP, and Cheongyecheon Stream. History buffs can delve into Korea's long history at The National Museum of Korea (
museum.go.kr
) which has more than 300,000 artifacts on display, meanwhile art enthusiasts will be in their element at The National Museum of Modern and Contemporary Art (
mmca.go.kr
). Korea House (
koreahouse.or.kr
) is a cultural space originally built as a guesthouse in the 1950s and later opened to the public. A variety of initiatives here promote Korean culture, including traditional cuisine and cooking courses, traditional weddings, and performances. Take in a concert of traditional Korean music or an exhibit of traditional instruments and audio/visual materials at The National Gugak Center (
gugak.go.kr
). The Jeongdong Theater (
jeongdong.or.kr
) is the first of its kind in Korea to embrace the spirit of Wongaksa Temple on stage and now leads the way in refining repertoire based on traditional subjects. Other programs like the Stonewall Project outdoor theatre series and Art Garden in Lunch Time aim to bring healing through arts for office workers.
BEYOND SEOUL
Get out of the city to enjoy Korea's beautiful natural landscapes across the country. High in the east and low in the west, there are several impressive mountains, such as Mount Seoraksan. Small islands dot the southern sea coast, one of which being Hwasanseom Island that exemplifies the dazzling beauty of Jejudo Island. Each of Korea's four seasons features a different charm. In particular, spring is a time of luscious flower fields and autumn is a time to take in gorgeous foliage across the country.
COUNTRY HIGHLIGHTS 
Go island-hopping in Korea! Jejudo is the stunningly scenic southern island of the nation. Here, visit the village of Hado (
seantour.com/village/hado
) to experience the history of the island's maritime culture and meet the women who dive into the ocean and collect goods without oxygen tanks. Tokki Island, which was designated a natural monument, presents the Hado-ri Migratory Birds' Habitat, and the Haenyeo Museum. In 1972, on the southern end of the Imjingang River, a tall pavilion called Imjingak was built for displaced people. When the Nuri Peace Park was finished in 2005, Imjingak became a symbol of reconciliation, harmony, peace, hope, and unification. On weekends, various cultural arts programs are held at the park, and there are many sculptures and other sights to see. Taekwondo has gained international fame as the representative martial arts form from Korea. The Taekwondowon in Muju, Jeollabuk-do Province operates the Taekwondo Museum and Experience Center, Taekwondo Arena T1, and overnight stay facilities. The museum houses over 5,000 relics related to taekwondo (
tkdwon.kr
).
TRADITIONALLY ACCOMMODATING
Hanoks are the preferred stay for visitors wanting a particularly traditional Korean lodging experience. These recognizable square or L-shaped dwellings often centre around a courtyard and are constructed and decorated with sustainable materials like clay, bamboo, timber, paper, and tiles. With great attention to detail, many hanoks have been lovingly restored and thoroughly modernized across Korea, offering guests luxurious amenities and historic charm.
NAMWON YECHON
The restoration of Namwon Yechon, unveiled in summer 2016, followed traditional architecture methods like lacquering and used traditional materials like red clay, bamboo, and seaweed. The result is 22 finely appointed guest rooms, each fitted with a large window or loft with a spectacular view. Enjoy traditional craft programs in the common area like hanji fan making, rubber shoe making, and hanji pocket mirror making. For an instagram-worthy memory, dress in traditional Korean clothing by designer Hwang I-seul and take photos in Experience Hall. Guests also receive a medallion at check-in, which can be used for free admission to the Chunhyang Theme Park and Gwanghallu Pavilion. (
namwonyechon.com
)
GYEONGWONJAE AMBASSADOR INCHEON
Hanok hotel Gyeongwonjae Ambassador Incheon is located at Central Park in Songdo, Incheon. Guest rooms embody the elegance of a hanok and the conveniences of a modern hotel. Soft light filters through paper windows, the bed is positioned under exposed rafters, and each room is outfitted with a luxurious cypress wooden bathtub. The banquet hall or Gyeongwollu is a two-storied pavilion. Crested eaves contrast with the modern building jungle skyline. Guests can enjoy a number of à la carte dishes and traditional royalty multi-course meals at the renowned hotel restaurant, Sura. (
gyeongwonjae.com
)
RAKKOJAE
When the original house built in 1880 was in danger of being demolished, new owner, Jeong Yeong-jin, purchased the four surrounding hanoks to create one large residence, Rakkojae. Inspired to offer visitors an authentic traditional experience, but understanding the need to modernize, each room has been modified with private bathrooms and common areas like the pavilions, pond, and main halls have been carefully revived to retain their classical atmosphere. While staying here, guests can enjoy breakfast service, tea ceremony wares in each room, cooking classes, kimchi-making, plus the Korean-style sauna or jjimjilbang is a favourite among new guests. Though the hanoks stand in a square formation in the middle of bustling Seoul, Rakkojae signifies a "space of reverence for history and rest for the soul." (
rakkojae.com
)
GURUME
Visitors to the Gurume hanok in Andong can watch talchum mask dance dramas and experience other aspects of traditional culture. Gurume is a traditional lodging facility that delivers the comforts of modern hospitality. Guests can experience Andong on this lush forest hillside without missing any contemporary conveniences. The 11 guest rooms offer private bathrooms, A/C, breakfast service, doorman service, and a wealth of information about attractions in the area. Enjoy seasonal food offerings at the café or take a leisurely stroll through the forest around the cultural complex. (
gurume-andong.com
)
CHI WOON JUNG
The Chi Woon Jung hanok stands as attractive as a traditional Korean painting in Bukchon. Each room is fitted with antique furnishings personally collected by the owner, including ceramics by Kim Dae-hoon, traditional Korean paper lanterns crafted by Jang Eung-bok, folding screens painted by Shim Sang-hoon, and fabric designed by textile designer Jang Eung-bok. There are only four guest rooms, each with a cypress wooden bathtub for ultimate relaxation. Guests are encouraged to request brief traditional Korean music performances or other cultural experiences during their stay. Programs for tea cake making, traditional sewing, and traditional Korean music performances are also offered. (
chiwoonjung.com
)
FOOD, GLORIOUS FOOD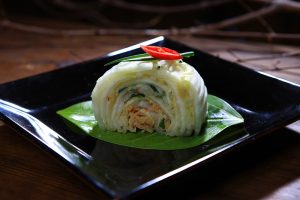 Foodies rejoice! Cooking is in its golden age in Korea. Chefs around the country are using traditional ingredients plus exciting preparations to equal a new world of flavours and a new generation of Korean cuisine. Naturally, many of the most notable dining experiences are in Seoul, but visitors will find great eateries everywhere they go.
KWON SOOK SOO
A modern analysis of traditional Korean-style fare, Kwon Sook Soo creates seasonal dishes with rare ingredients from all over the country. From 2017 to 2020, the restaurant has maintained two Michelin stars. From sauces to pastes to pickled fish, the restaurant is unleashing modern cuisine with a traditional essence. (
kwonsooksoo.com
)
GOTGAN
Located on the 50th floor of the Federation of Korean Industries building, Gotgan is a one-star Michelin restaurant that is part of a collective of restaurants with a "back to the land" philosophy of integrating agricultural practices into culinary art. Inspired by how people of the past used to eat, Gotgan chefs develop seasonal dishes that show off the best of nature with as little cooking and as few added flavours as possible. Chefs use only 50-year-old soy sauce, five year-old vinegar, and other fermented seasonings. The tableware and ambiance also live up to the elegance of the food for a full sensory experience. Reservations are required. (
theskyfarm.co.kr
)
BAEKSA
From noodles to fine dining, Baeksa is heaven for foodies. Chef Lee Jongkook has often been credited with giving new direction to Korean cuisine and once said, "I would not trade spring chives for meat," suggesting that he uses seasonal ingredients to bring out authentic flavours. Slurp noodles on street level made of organic wheat and served with a main course and dessert. The third floor is where the chef himself prepares private dinners for VIPs.
SEOKPARANG
Seokpajeong has been transformed into one of the most stylish hanok restaurants in Seoul. Menu items include delicacies such as Daegu dumplings, fowls roasted with seven kinds of herbs, fresh fish, and steamed vegetables. Enjoy your meal overlooking the garden or climb up to the wooden staircase to see the entire premise at a glance. (
seokparang.co.kr
)
JINKWANSA TEMPLE
A culinary discovery tour of Asia includes a visit to Seoul's Jinkwansa Temple, a temple famous for food. Here, visitors can taste the special recipes of the monks who cook with no artificial additives and only the freshest ingredients. There are five vegetables that are forbidden in Buddhist cuisine – garlic, green onion, chives, and wild chives – which keeps food from smelling pungent. There is also no meat used, and beans become a staple ingredient. But fear not fellow foodies, fermented soybean paste, Korean chili paste, and soy sauce make the dishes highly savoury. (
jinkwansa.org
)