Day | Night
A city to steal your heart, St. John's is small in size, but big in personality. There's a photo-op on every corner – a bustling downtown core, side streets stacked with jellybean coloured row houses, Cabot Tower looming in the background, all set on the cusp of the windblown Atlantic ocean.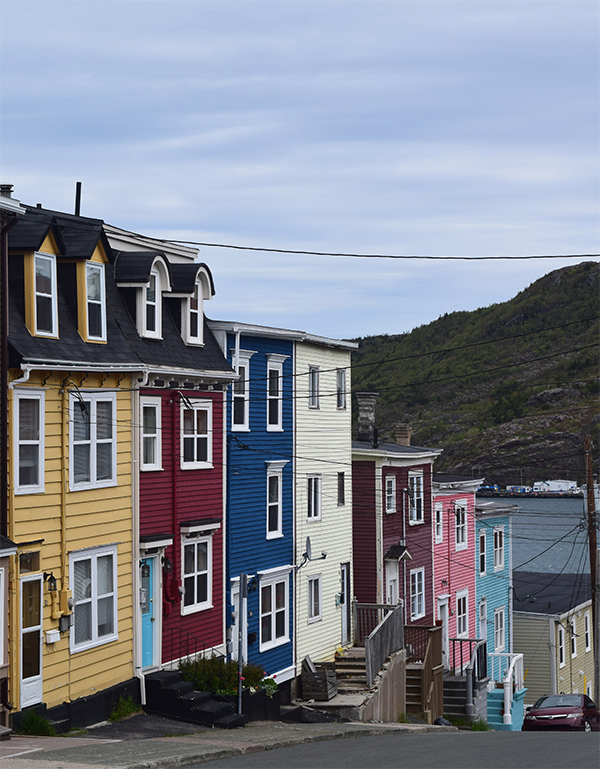 SUNRISE Start the day a short drive from the city at Cape Spear, the continent's easternmost point, to see the sun rise before anyone else in North America. BRUNCH One of the best restaurants on the east coast, Mallard Cottage (mallardcottage.ca) is owned and operated by chef Todd Perrin. The brunch menu features mostly savoury plates, like the seasonal seafood quiche with dreamy, salty, crispy potato wedges. Splurge at the dessert table filled with cakes and breakfast pastries. Reservations recommended. STROLL Meander through downtown taking in the sights of the working harbour, imagining what's inside the colourful row houses, and popping into cute shops, galleries, and cafés. Highlights include local favourite Rocket Bakery (rocketfood.ca) for coffee plus pastries; HOME on water street, a beautifully curated home decor shop; Le Boudoir Lingerie (leboudoirfit.com) featuring high-end swimwear and helpful sales staff; and the Newfoundland Chocolate Company (newfoundlandchocolatecompany.com) with local chocolate bars dressed in colourful row house wrappers. LUNCH Don't be fooled by this modest east coast chain restaurant, Piatto Pizzeria + Enoteca (piattopizzeria.com) is a stylish and friendly place doing Neapolitan pizza right. The "Stephanie" is a stand-out with a combination of goat cheese, prosciutto, caramelized pears, and balsamic glaze. Get the pizza and soup or salad lunch special for an absolute steal at only $14. HIKE Cabot Tower, atop Signal Hill, is the site of the first transatlantic transmission in 1901 and is a relatively easy 20-minute up-hill walk from downtown. Offering incredible city, harbour, and ocean views, there are a variety of longer trails available for eager hikers. At the foot of the hill, take a moment to reflect at the Terry Fox monument, where the 21-year-old embarked on his Marathon of Hope after dipping his artificial limb in the Atlantic ocean.
Day | Night
It's the famous hospitality of the people of St. John's who bring the city to life. From shouts of "sociable!" to roaring kitchen parties and twangy fiddle music, these are the sounds of Newfoundland at night.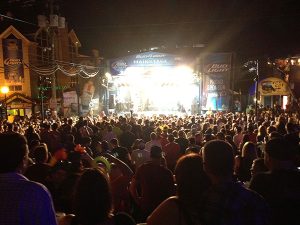 LEARN Open late on Wednesdays and Fridays, early evening is a great time to explore The Rooms (therooms.ca) a public cultural space exploring the history, art, and traditions of Newfoundlanders. DINNER The Merchant Tavern (themerchanttavern.ca) features a tall-ceilinged, wood-panelled industrial dining room that exudes sophistication and warmth. From the menu try fresh catch and bistro classics, or the 5-course Chef's Tasting Menu. If you're looking for a little romance and a lot of refinement, find a reservation at Raymonds (raymonds restaurant.com). Elevated east coast cuisine in an elegant setting. REVEL Head to the historic, pedestrian-only George Street district for some late night fun and lively entertainment. Packed with bars, pubs, and clubs, George Street boasts crowds and live music every night of the week. Check georgestreetlive.ca often for updates on special events and annual festivals. SLEEP The exquisite Ryan Mansion (ryanmansion.com) is a 5-star boutique hotel in the heart of old St. John's. The grand staircase, centrepiece of the inn's dramatic entrance hall, was a custom commission by the same craftsmen as the grand staircase on the ill-fated Titanic. Capturing the spirit of this connection, Ryan Mansion offers Titanic themed dinners and getaway packages. But if tranquility is what you're craving, head an hour out of town to stay in style at The Doctor's House (doctorshousenl.ca). Recently updated, the 30-room inn sits on a 100+ acre oceanfront estate. For old-world charm book The Chestnut Suite, for something more modern, try a room in the new Lavender Bungalow, families seeking privacy should book The Guest House. Complete your stay with a trip to the spa, a walk among the wooded trails, and fine fare at the Secret Garden Restaurant.
Story by ASHLEY ROCHEFORT