At the lake, drinking Ontario wine feels like the right thing to do for any occasion. And local wineries can —and do—spin out some very fine juice. You just need to know which bottles to buy. With that in mind, I tasted high and low to find six hidden gems that pair perfectly with quintessential cottage moments.

ON THE DOCK
2017 Redstone
Limestone Vineyards
South Block Riesling,
VQA Twenty Mile Bench, Niagara
Score: 96 | $19.15
Available at redstone.com Kick back in the sun with a glass of this sunlit Riesling. Its refreshing scent of fresh salted lime and saturated, sorbet-like attack will have you at hello. The beam-like entry tastes bright and pure, quickly unspooling with coy suggestions of white peach, lemon-lime and mango before leaving an attractive wet stone and sea salt finish. This is a stylishly complex wine with a light kiss of sweetness, mouthwatering acidity, and a sensibly low 10.5 per cent alcohol.
AROUND THE BONFIRE
2016 Tawse Winery
David's Block Cabernet Franc,
VQA Twenty Mile Bench, Niagara
Score: 96 | $50.15
Available at tawsewinery.ca Bonding around the bonfire with friends is priceless—especially over a superb bottle of red such as this. It teems with aromas and flavours of black cherries dunked in dark chocolate, while the rich centre is intriguingly scored with elements of minerality—graphite and granite as well as a toasted nuttiness. And yes, actually, it pairs with stick-roasted hotdogs, too. Ticks all the boxes while demonstrating why connoisseurs are calling Cabernet Franc Ontario's flagship grape variety.

AS THE SUN SETS
2017 Westcott
Rosé Pinot Noir,
VQA Vinemount Ridge, Niagara
Score: 92 | $22.95
Available at westcottvineyards.com Pour a glass of this dry wine that drinks like a Provencal rosé and watch the sun set. All easy elegance, it shines pale coral and exudes ethereal aromas of struck steel and crushed redcurrants. The attack is silky-crisp and restrained, with wispy notes of cool linen and homemade strawberryrhubarb pie, followed by a faint but resonant twist of citrus zest on the finish. Just 400 cases of this delicate rosé were produced though, so snap it up before it's gone.

WITH GRILLED STEAK
2017 Henry of Pelham
Speck Family Reserve Baco Noir,
VQA Ontario
Score: 94 | $24.95
Available at LCBO Vintages or henryofpelham.com Baco Noir has a cult-like following in Ontario, and this particularly profound expression tastes like it was made to pair with grilled steak. Made from 35 year old vines, it's inky dark in colour and delivers robust aromas of macerated berries, smoky tobacco and roasted coffee. Then, a cashmere crush of dark cherry and plum, cigar box and espresso fill the mouth and stay a while. Outstanding value from a top-notch Baco Noir producer.

WITH GRILLED FISH
2017 Stratus
Weather Report Chardonnay,
VQA Niagara-on-the-Lake
Score: 93 | $28.00
Available at stratuswines.com Grilled fish is a summertime staple. And it comes to life with this sophisticated white from one of Ontario's terroir-driven producers. It offers all the concentration and weight needed to stand up to grill marks, while maintaining delicacy and elegance. Quiet scents of nougat and praline lead to a smooth entry that quietly unfolds with full-bodied flavour. Chantilly cream, sweet corn, and nuts infuse the bright citrus core, and a crème brûlée finish with a touch of grapefruit pith lend lingering appeal. A connoisseur's wine.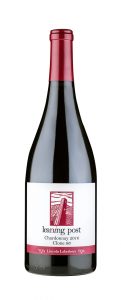 IN GOOD COMPANY
2016 Leaning Post
Clone 96 Chardonnay,
VQA Lincoln Lakeshore, ON
Score: 97+ | $45.00
Available at leaningpostwines.com This impressive wooded Chardonnay drinks like fine white Burgundy at a fraction of the price. Wonderfully heady aromas of smoky lime, fresh butter and cool stone draw you toward a creamy-weighty palate shot through with bright acidity. Each satiny sip unfurls with lemon curd, toasted meringue, and freshly rolled pastry with underpinnings of chalk, marzipan and honey. Polished,poised, and worth every cent. Winner of the gold medal at the Ontario Wine Awards and Lieutenant Governor's Award for Excellence in Ontario Wines in 2018.
Story by CAROLYN EVANS HAMMOND