To take you through the season in style
Nothing is easier (and smarter) than serving a delicious wine with a fabulous cheese. It's effortlessly chic and makes holiday entertaining a breeze. To set you up for success, here are five brilliant wine and cheese pairings to add panache to classic holiday gatherings…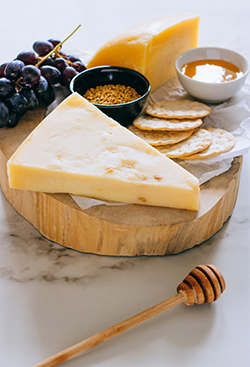 Holiday Open House
WOODED CHARDONNAY AND GRUYERE2017 Wente Morning Fog Chardonnay, California
Toasty and refined with creamy-crisp flavours of lemon meringue pie, toasted coconut and vanilla.
Available at LCBO | $19.95
One seriously compelling pairing is oaked Chardonnay and Gruyere, a hard cheese from Switzerland. The combination will dazzle your guests. Simple yet oh-so-good. Set a big wedge on a cheeseboard with crackers. Grate some onto thin toast points and broil it. Or bake some Gruyere, onion, mushroom tarts. Any way you slice it, you can't go wrong.
Office Party
SAUVIGNON BLANC AND FRESH GOAT CHEESE2018 Villa Maria Private Bin Sauvignon Blanc, Marlborough, New Zealand
A juicy attack of guava dappled with orange, lemon and lime, as well as coriander and parsley.
Available at LCBO | $17.95
The crisp, gently herbaceous flavour of Sauvignon Blanc tastes like it was made to serve with fresh goat cheese. Spread it on crackers, crumble and broil on flatbread, or bake it in thumbprint-sized phylo cups with chives sprinkled on top, and all you need is a bottle of the wine to bring finesse to the office party.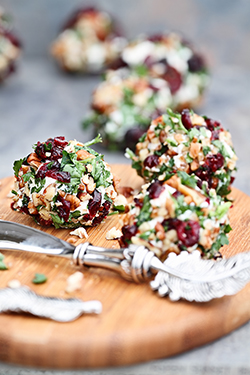 Hanukkah
MANISCHEWITZ WINE AND CREAM CHEESENV Manischewitz Blackberry, New York
Blackberry jam in a glass—but liquefied and gourmet—with a firm alcoholic backbone sustaining the vinosity.
Available at LCBO Vintages | $9.00
When observing Hanukkah, you can lift the festivities with Manischewitz wine and cream cheese treats. The combination of the sweet, jam-jar goodness of the wine works very well with cream cheese. Whether it's rolled in nuts, cheese-ball style, baked into latkes, or just spread on toasted bites of challah—the pairing is downright delicious.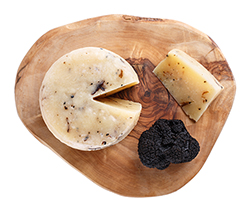 Christmas Day
BAROLO AND TRUFFLED PECORINO2014 Marchesi di Barolo La Tradizione Barolo, Piedmont, Italy
Allusions of tar and roses underpin bright fruit—dusty cherries and plum purée—with hints of coffee, earth and chocolate.
Available at LCBO Vintages | $42.95
For a real treat at Christmas, pair Barolo, one of Piedmont's most revered wine styles, with truffled Pecorino— otherwise known as pecorino al tartufo. The earthy elegance of Barolo pairs famously with the gamey goodness of truffles, especially when the truffles imbue hard, salty Pecorino. It's a hedonistic combination. Truffled Pecorino needs no embellishment, so serve it simply with crackers or toasts and pour the wine.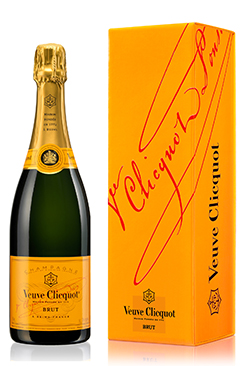 New Year's Eve
CHAMPAGNE AND GRANA PADANONV Veuve Clicquot Brut Champagne, France
Baked apple, white flowers and toast edged with warm vanilla and nuts. Delicate and elegant.
Available at LCBO | $74.25
New Year's Eve calls for bubbles. And nothing is quite as celebratory as Champagne, with its hallmark cooked apple, brioche, and lemon curd character. But you can step up your game by serving it with Grana Padano—Northern Italy's famous hard, crumbly cheese rich in umami. A large wedge of this honourable cheese really needs no embellishment—so serve as is, with fizz.
Story by CAROLYN EVANS HAMMOND