Splash a little Chablis in your glass and take a sip. Suddenly you're in France. Same holds true for Champagne, Rioja, Barbaresco, and all the rest—wines that take you to these fabulous places. Pair the wine with food from the same region and things get really trippy. Enjoy a little European escape with these six smart summer sippers and suggested nibblies.

PROVENCE ROSÉ AND TAPENADE
Score: 90 | $19.15
For a taste of the South of France, enjoy the 2020 Carte Noire Rosé from Provence, France (Vintages Essential 319384). This pale coral blend of Grenache and Cinsault swirls with delicate  flavours ofripe red fruit laced lightly with  wet stones, dried herbs, and green olive.
Pair it with tapenade — an olive and anchovy spread seasoned with capers, garlic, and lemon — spread on small pieces of toasted bread, and bring the Côte d'Azur to you. 

CHABLIS AND OYSTERS
Score: 91 | $32.80
Staying in France, head north to Burgundy for the 2019 Joseph Drouhin Chablis Drouhin-Vaudon (LCBO 284026). In Chablis, the grapevines grow in soil rich in Kimmeridgean clay, which produces a stony, slightly saline-style Chardonnay, shimmering with crisp acidity. And this bottle is a prime example. Each sip is silky, seamless, and scented with seashells.
Pair this beautiful Chablis with oysters, lobster, or any fish dish at all. The match is pure perfection.  

CHAMPAGNE AND SMOKED SALMON
Score: 92 | $57.50
For a brilliant bubbly, pour the NV Nicolas Feuillatte Brut Champagne from France (LCBO 537605). Each glass shines straw-coloured with golden inflections, while tiny bubbles bead to the surface. The attack engages instantly with the fragrance and flavours of buttery brioche, baked apple, and a touch of almond. Elegant, quenching, and dry.
Serve this Champagne with smoked salmon on toast points for a little je ne sais quoi in the afternoon. Or add a salad and suddenly you've got lunch. 

BARBARESCO AND MUSHROOM RISOTTO
Score: 90 | $29.95
Head to Piedmont in northern Italy with the 2017 Castello di Neive Barbaresco DOCG (Vintages Essential 160143). This pale expression of the Nebbiolo grape fans out with gorgeous, elegant complexity. It's whispered with violet and earth, cherries and chocolate, and blackberries and olive, forming a sheer, allusive tapestry of flavour that is fabulously food friendly.
Pour this Italian classic with a bowl of mushroom risotto or kick it up a notch with shaved truffles, truffled cheese, or even a drizzle of good-quality truffle oil on top.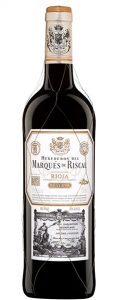 RIOJA RESERVA AND MANCHEGO
Score: 93 | $27.45
Skip over to Spain with a glass of the gorgeous 2015 Marques de Riscal Rioja Reserva (LCBO 32656). From the muted aromas of vanilla and cherry-cola to the generous sweep of smooth flavour, this wine offers immediate pleasure. It is a cashmere crush of black cherry, burnt sugar, and cola nut—but dry—before tapering to a long finish of rubbed oregano.
For a touch of Spanish charm, serve this Rioja Reserva with some slivers of Manchego cheese. Crackers optional.

AMONTILLADO WITH MARCONA ALMONDS
Score: 93 | $17.95
Or take a trip to southern Spain with a sip of Emilio Lustau Los Arcos Amontillado (Vintages Essential 375097). This fortified wine made in the sherry style, and is bone dry, amber toned, and complex. Expect aromas of roasted nut, caramel, coffee, and orange that echo on the palate.
Serve this Amontillado well-chilled with a handful of salted Marcona almonds from Spain.  Magic.
So, stock your wine rack, pantry, and fridge with these European wines and foods and get ready to experience some exciting getaways from the comfort of your deck or dock.