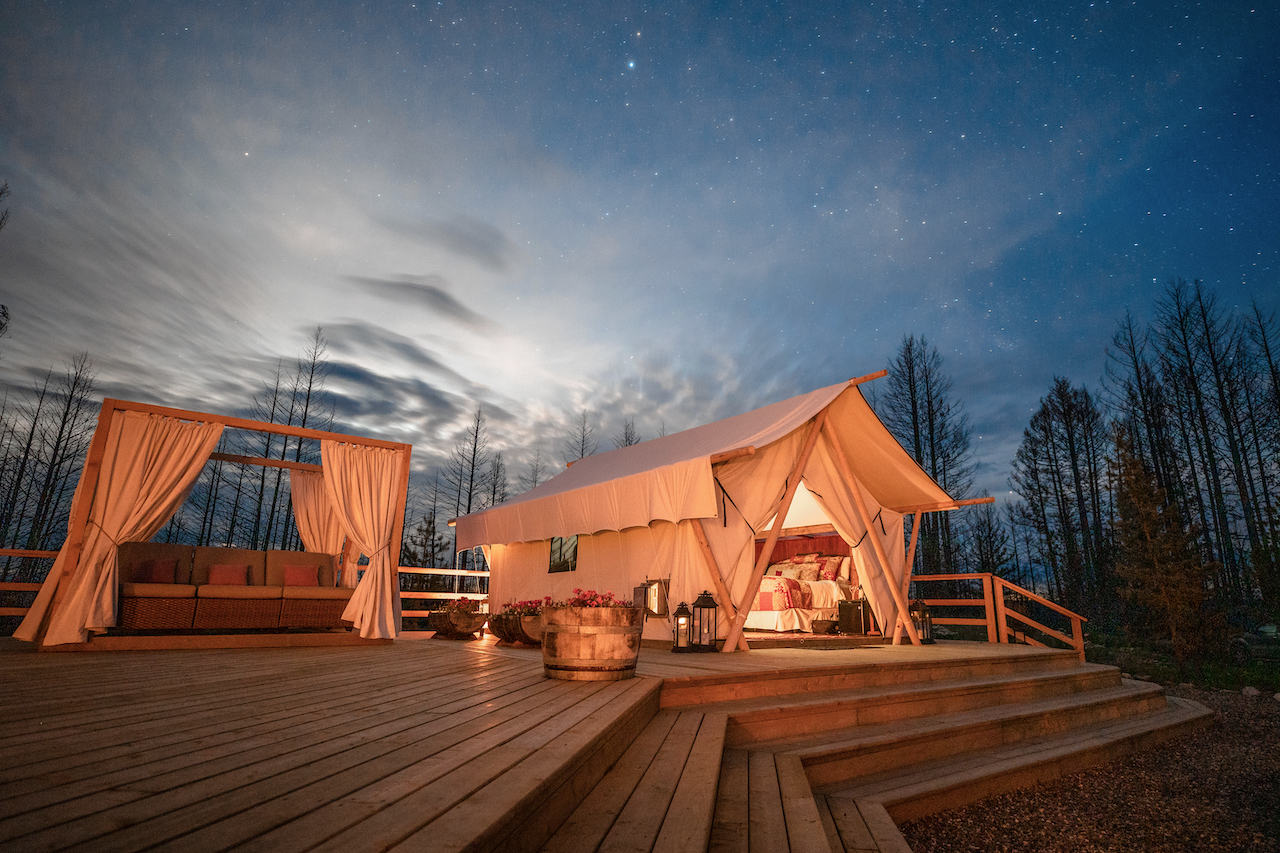 Despite recent changes towards international travel rules, domestic travel remains one of the most popular avenues for Canadians who are looking for an escape. According to the 2021 National Travel Survey by Statistics Canada, in the second quarter of 2021, virtually all (99.1%) of trips were domestic.
With domestic travel still very much a safe and viable option, camping has become more popular than ever, with nearly one third of all domestic trips (31.8%) dedicated to exploring Canada's big backyard. As such, the demand for luxurious glamping (a portmanteau of "glamorous" and "camping") facilities has also increased.
Unlike a traditional campsite, which more often than not requires campers to bring their own tent and supplies, glamping takes an elevated approach to sleeping in the great outdoors, with cosy yurt-like structures that provide guests with everything from supplied feather duvets to meals prepared by an on-site chef. With warmer weather just around the corner, here are five glamping spots to explore this spring.
Siwash Lake
Thompson-Nicola E, British Columbia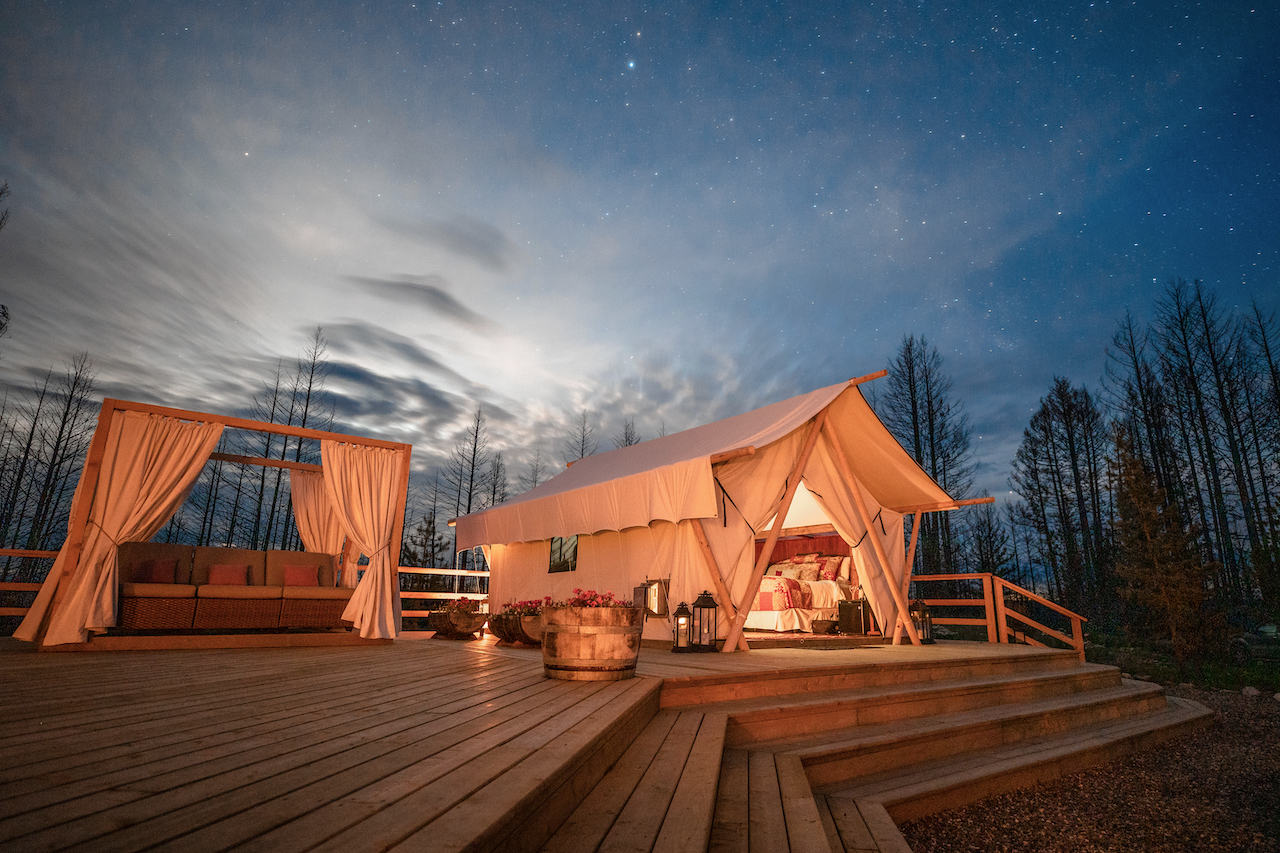 Available for three, four, or seven-night stays, the Siwash Star Camp provides overnight guests with panoramic views over Siwash Lake and the Marble mountains, where guests are guaranteed to catch a spectacular sunrise or sunset, as well as revel in expansive night skies thanks to the property's private dark sky reserve. Each canvas tent is equipped with one king-sized bed (or two single beds) and a pull-out sofa, a three-piece bathroom, a wood-fired, cedar soaker-style hot tub, and a private campfire pit for the ultimate late night relaxation.
For added cosiness, each tent also features a wood-burning stove inside the tent, as well as a skylight above the bed to gaze at the stars, where sometimes, the Aurora Borealis streaks through the night sky in a series of spectacular colours. Rates include accommodation,  gourmet meals,  beverages, alcohol, and plenty of self-guided activities from dawn til dusk.
Northridge Inn & Resort
Sundridge, Ontario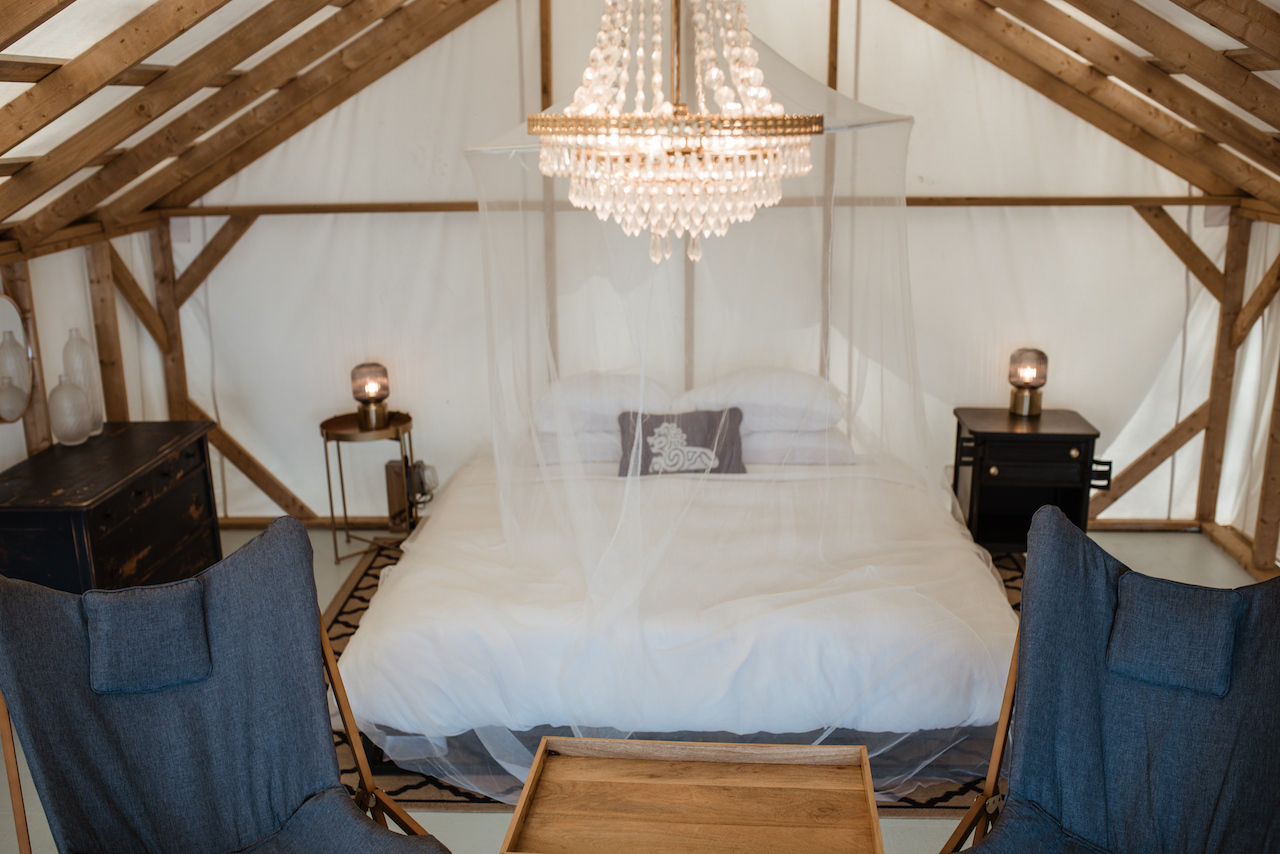 Set on the water's edge of Bernard Lake in the breathtaking Muskoka region, Northridge Inn & Resort provides a luxurious glamping getaway from Sundays to Thursdays. All of the glamping tent suites feature a front porch, cosy goose down duvets for those brisk nights, a small private fire pit and a propane barbeque for cooking, a coffee maker, and complimentary bath and shower products.
Inside the tent, guests also have a small dining and seating area. Just a short walk from the glamping area, guests will find washrooms with hot showers, toilets, and a dry sauna. Northridge Inn & Resort also provides guests with complimentary WiFi that even reaches the beach. As far as dining goes, leave the cooler at home—the resort has a restaurant that serves up breakfast, lunch, and dinner, as well as a lounge which offers hand-crafted cocktails in a charming setting.
northridgeinn.com/glamping-tents/ 
Outpost Co.
Georgian Bay, Ontario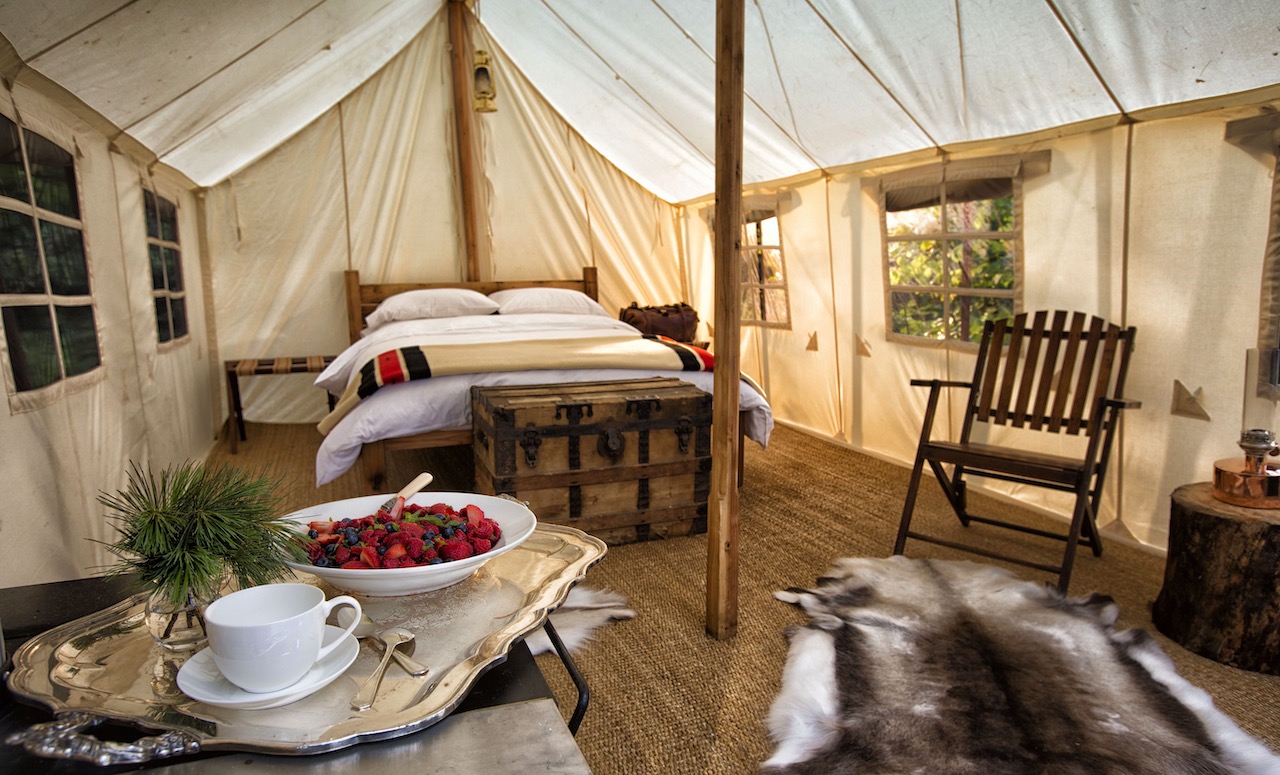 Hidden along the shores of Georgian Bay, Outpost Co. has no electricity and no WiFi–the entire objective is to go back to basics and disconnect from the hyper-connectivity that infiltrates the everyday lives of most people. Instead, each guest is invited to unwind and reconnect with nature from the comfort of their own private campsite, which features a spacious canvas tent equipped with a queen-sized bed outfitted in Egyptian cotton sheets and eiderdown duvets and pillows. Rustic hand-crafted walnut luggage racks and vintage trunks are also included.
Guests can opt to stay in the wall tents, which are furnished with queen beds, or the bell tents, which include two twin-sized beds. Outpost Co. has partnered with Ascari Hospitality Group, which owns some of Toronto's finest restaurants. Guests are given locally sourced ingredients that are then transformed into pre-prepared meals and transported directly to the campsite in chilled coolers. As part of the wilderness experience, guests will also prepare their own meals over a propane stove. Think less hotdogs and toasted marshmallows, and more campfire shakshuka and banana, chocolate, and hazelnut brioche!
Clayoquot Wilderness Lodge
Vancouver Island, British Columbia
Applauded as one of Vancouver Island's most luxurious wilderness retreats, Clayoquot Wilderness Lodge is so off-the-grid, that it's only accessible by seaplane. This all-inclusive luxury resort in British Columbia is nestled within miles of pine forests, making it a truly remote experience. There are 25 white canvas glamping tents, lining the banks of Clayoquot Sound and surrounded by ancient canopy growth.
Each luxuriously-appointed tent is decked out in contemporary style, with commissioned furnishing from local designers. Each luxury glamping suite sleeps anywhere from four to eight guests, and includes amenities such as an ensuite bathroom with heated floors, an outdoor cedar rainwater shower or soaker tub, a king-sized bed, and private deck or verandah. As an all-inclusive resort, each glamping experience at Clayoquot Wilderness Resort also includes gourmet dining, a selection of premium wines, beers and spirits, signature guided experiences, evening turndown service and more. 
Elk Island Retreat
Fort Saskatchewan, Alberta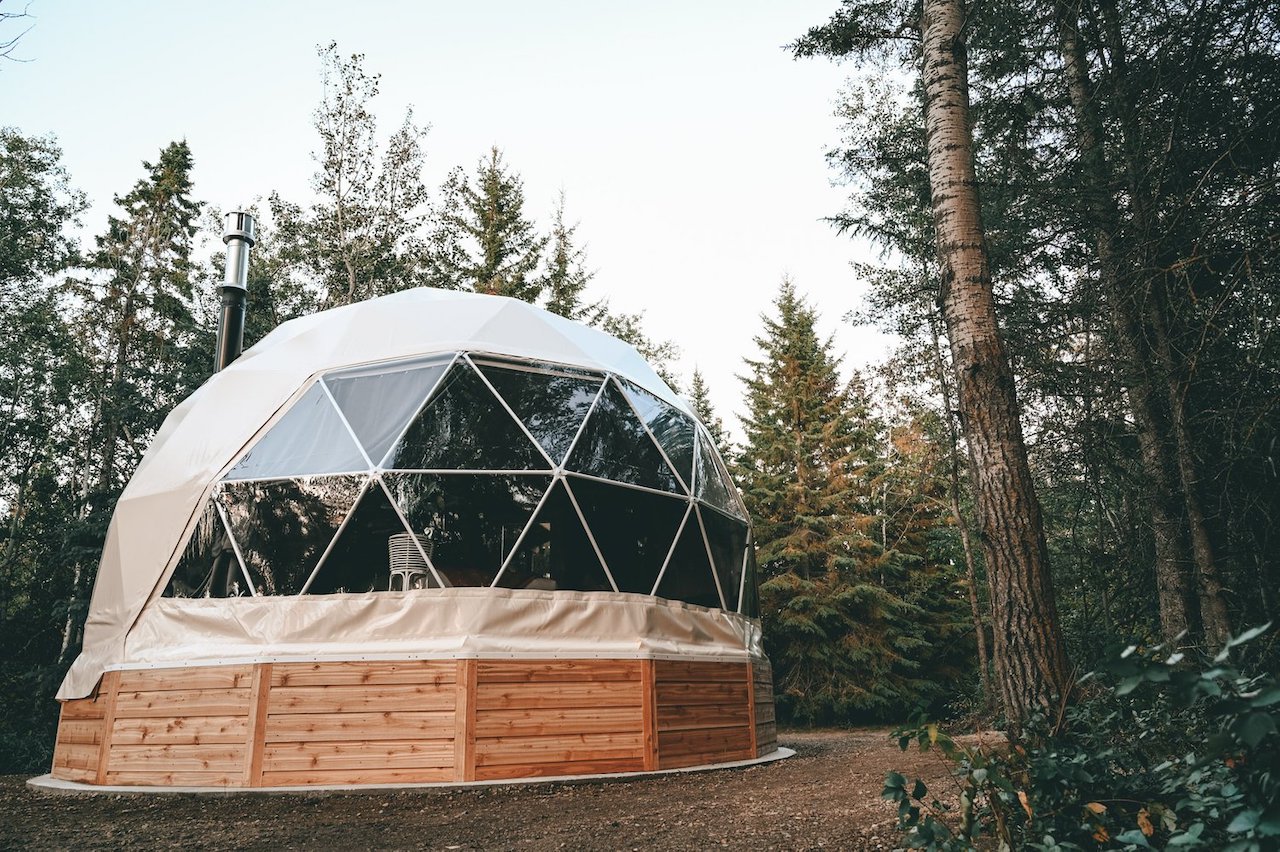 Ever fancied a stay in a geodesic dome? At Elk Island Retreat, guests can choose to glamp in four unique dome-style yurts, including the Dark Sky dome, which is perfect for gazing at the stars. Set on 60 lush acres in Fort Saskatchewan, Alta., each luxury geo dome is furnished with amenities like a queen size bed with linens and bedding included, a Nespresso coffee maker (with pods for coffee and tea), a mini fridge and freezer, a fireplace gas heater (birch wood is available for purchase on site), and a private fire pit and picnic table.
Each geo dome sleeps a maximum of two guests. For a more romantic retreat, Elk Island also offers a charcuterie board for purchase which includes a selection of fine cheeses, cured meat, crudite and fruit. A bottle of red or white wine or non-alcoholic sparkling juice is also included with the board.
See our Glamping Guide for five must-haves for the ultimate sleep under the stars!