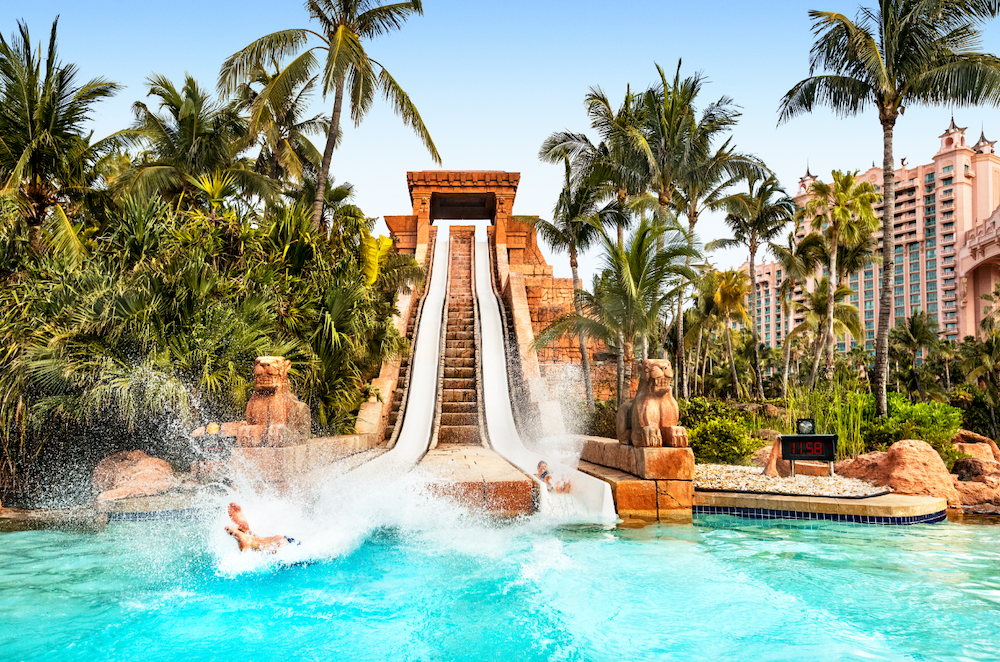 Atlantis Paradise Island's iconic coral towers make it one of the most easily distinguishable properties in The Caribbean. The theme of the landmark resort in The Bahamas was inspired by the lost city of Atlantis — a legendary sunken city believed to now be buried underwater somewhere in the Atlantic Ocean. 
"In Bimini, there's this myth that part of the lost city of Atlantis still exists there today," explains Ted Adderley, vice president, sales at Atlantis. "This lost city of Atlantis became who we are and our identity. Even today, we try to manage the lost city of Atlantis and create a more modern contemporary feel to the resort."
The legend behind the myth is evident across the resort from depictions of an underwater world in the lobby to what looks like remnants of a long-lost civilization integrated into its main marine life exhibits.
Focus on conservation
While Atlantis has grown to include five distinct properties, including the classic Royal towers connected by a famous bridge suite, and the luxurious and modern rooms found in The Cove, the resort is all about being more than just a place to stay. "We're a destination in and of itself," Adderley says. "And purposely done so that you can find what you need here."
Along with a massive water park with slides and a lazy river, multiple beaches and pools, a casino, and a luxury marina able to accommodate yachts straight out of Below Deck — and visits by the likes of Drake — Atlantis is home to more than 50,000 marine animals who aren't there for entertainment value. There's a major focus on sustainability and conservation with an education centre and animal-rescue rehabilitation hospital on site. Behind the scenes, a team of 165 people, including marine biologists, study these mammals and help nurse them back to health to the point where many get re-released in the wild.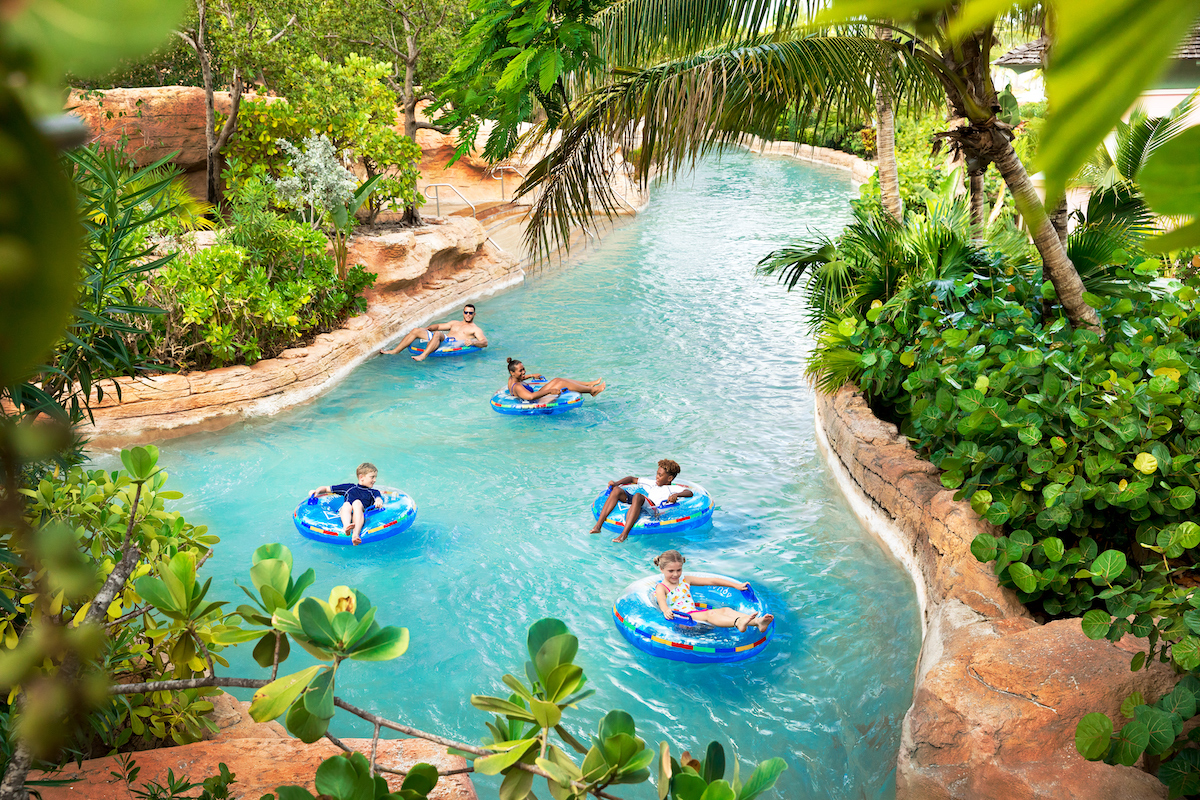 Food to dine for 
On the guest side, there are many notable restaurant options by internationally renowned chefs on property. The popular Nobu restaurant by chef Nobu Matsuhisa features dishes like Wagyu beef, a wide assortment of nigiri, sashimi, and maki, and a signature bento box dessert creation made from rice flour with chocolate fondant cake and green tea ice cream. 
Matsuhisa is well known for putting his own twist on traditional Japanese fare. Meanwhile, the cocktail menu includes everything from sake infusions and an award-winning Bahamian Samurai cocktail to fresh takes on staples like the Oni Negroni, which is made with Hokusetsu sake and Aperol. 
At Café Martinique, Michelin-starred chef Michael White puts the focus on sustainability with locally sourced food in the adjacent Marina Village. Each dish is like a work of art using local Bahamian ingredients blended with unique Mediterranean-inspired flavours. Appetizers currently range from beef tartare to a creative twist on french onion soup. Mains are seafood or meat centric like a pan seared sea bream with asparagus and gnocchi Parisienne or a venison loin with chestnut bourbon cream. Be sure to leave room for dessert with options like profiteroles with Madagascar vanilla ice cream drizzled with a 70 per cent chocolate sauce. 
Located in The Cove, Fish by José Andrés is another delicious option that pays homage to traditional Bahamian cuisine. The expansive dinner menu features oysters, mussels, tuna tartare, Caribbean grouper, jerk chicken and a vermicelli mac 'n' cheese with jumbo lump crab. There are also a multitude of dishes made with conch, a local staple in The Bahamas. A signature beverage is the salt air margarita, which instead of a salt rim features a salt infused foam. 
Notably, Andrés is also the founder of World Central Kitchen, a not-for-profit organization that heads to the frontline around the world to provide meals in response to humanitarian, climate, and community crises. Andrés is currently near the border in Poland to serve warm meals to Ukrainian refugees who are seeking shelter from invading Russian troops.
Get off the beaten path in Nassau
While Nassau, New Providence and Paradise Island are well known for tourism in The Bahamas, there's still plenty to experience that's off the beaten path when you head off the resort.
If you want a cold one — or to sample a flight — check out Pirate Republic, the first craft brewery in The Bahamas. There are two locations to choose from, one in the Marina Village at Atlantis and one in downtown Nassau near the cruise port, which has a wider selection of seasonal brews like the B'limey Ale, a cream ale made with toasted lime peel for a burst of citrus; or an imperial stout aged for six months in John Watlings Rum Barrels.
For a unique underwater experience, head to Clifton Heritage National Park to admire the views of its underwater sculpture garden including the mesmerizing Ocean Atlas piece by Jason de Caires Taylor of a local Bahamian girl carrying the weight of the ocean above her. Back on land, the site is home to installations about the islands' colonial and pre-colonial history. 
Those who like to shop can head to Bahama Hand Prints, a retail shop selling accessories and apparel featuring exclusive designs made using a hand screen printing technique.