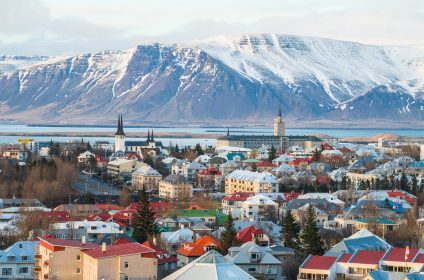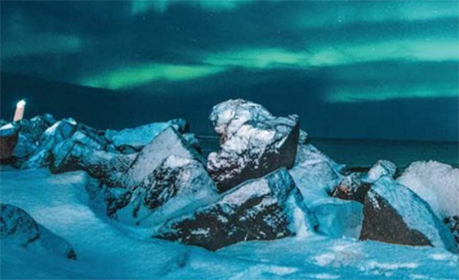 CHECK IN  Downtown Reykjavik's imposing Hotel Borg By Keahotels (keahotels.is/en) is an elegantly styled lodging in the centre of it all, boasting modern amenities and a relaxing spa. Or for the ultimate in luxury and spectacular views, stay at one of only eight suites at the Tower Suites Reykjavik (towersuites.is). Large groups can book the entire floor of suites for up to 27 guests.
LOBSTER SOUP  Reykjavik's cafes may be famous for their selection of sandwiches but skip this in favour of a walk down to the Old Harbour district for a hearty bowl of lobster soup at either Sægreifinn (saegreifinn.is/en) or Verbúð 11. 
SHOP  For a taste of Iceland to bring back home, find hand-harvested salts in flavours like licorice and smoked birch, by Saltverk (saltverk.com). For something sweeter, Omnom (omnom.is) creates small-batch chocolate bars in creative flavours like sea salted almonds and coffee + milk. Both sweet and salty souvenirs can be found at shops around town. 
BLUE LAGOON  A rite of passage for any visitor, the Blue Lagoon (bluelagoon.com) offers a multitude of geothermal experiences in their milky blue waters. The ultimate in rejuvenation is the five-hour Retreat Spa package that includes access to the Blue Lagoon, eight subterranean spaces, and private Retreat Lagoon, plus skin care amenities, a ritual treatment, refreshments, and more. 
GOLDEN CIRCLE  All around the island, Iceland boasts incredible nature: waterfalls, hot pots, black sand beaches, glacier hiking, and more. It's worth a longer stay to travel the famous Ring Road navigating the circumference of the nation. But if you're only in town for a few days, don't miss the Golden Circle, a trifecta of natural treasures just outside the city limits, including Thingvellir National Park, Geyser, and Gullfoss Waterfall (visiticeland.com). Join a tour or rent a car for a self-guided day trip. 
VIEW  Standing guard over the city is Hallgrimskrikja Church (en.hallgrimskirkja.is), still one of the most popular tourist attractions in the country. A visit to the church is free, but a $10 admission fee will give you access to the tower and some of the city's most incredible views.  
DINNER  Dining options abound in Iceland's capital. For a quiet night in, grab a pizza at Eldsmidjan (eldsmidjan.is). Try the Rustico with cream cheese, ground beef, and pepper cheese. See and be seen at the lively Tapas Barinn (tapas.is/is) serving small plates of adventurous Icelandic delicacies like puffin, lamb with wild berry sauce, minke whale, and skyr for dessert. Wash it all down with a bottle of house- made sangria. For an haute- cuisine experience, Icelandic-style, there's no place better than Dill (dillrestaurant.is/en). The tasting menu is ever-changing and an expression of traditional and sustainable ingredients and preparations. Wine pairings highly recommended. Reservations required. 
HARPA  Reykjavik's centrepiece, Harpa (en.harpa.is) is a glass goddess located at the foot of downtown. The facility is home to Iceland's finest productions, concerts, theatre works, events, and more. If you're not into live theatre, roam the beautiful building on the weekend when it hosts a market of local crafts, foods, and goods. 
AURORA  During the darkest part of night, between September and April, visitors to Iceland have a good chance of spotting the elusive beauty of the northern lights (visiticeland.com). Join a tour group with skilled excursion leaders who know how to "hunt" down the lights.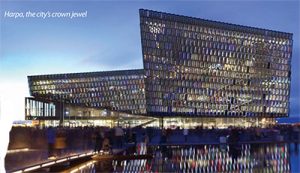 Story by Ashley Rochefort