The founding values behind Bula Coffee — a coffee production company in Fiji — extend far beyond providing a good cup of morning joe. As Luke Fryett, whose job title cleverly reads 'Man on the Ground,' explains, while giving the world a great shot of coffee, Bula Coffee is "all about giving Fijians a better shot at life."
What started out over a decade ago as a small enterprise working with one family in one village in Fiji has since expanded across 38 villages to buying coffee off of 5,000 people annually — a significant number of Fijians who now have additional sources of revenue.   
"It's more than money — we exist to give people a hand up — to give people a better shot at life," he said. "To give people access to education, to give them financial independence. Money matters, but it's more than money. We are changing lives one cup at a time."
More recently, Bula Coffee launched the Crop to Cup Coffee Tour, giving travellers "the chance to not only taste Fiji's wild harvest coffee and see how we process it, but also the chance to become a part of our story, becoming invested in our work and becoming part of the change we are making in Fiji."
Along with learning about how to get a coffee cherry ready for a morning brew, visitors will be able to learn about how every cup of coffee can make a difference in the local economy. One example of how getting involved in the coffee business has made a positive impact is in a local community where kids would get to their boarding school by floating down the river in a tire — often getting soaked in the process. 
"They used their coffee money to buy every kid in the village a waterproof bag, and a small cooker, so now the older kids can cook for the younger kids, during the week," he said. "They also built a much better raft with tires all around it secured properly so the kids can keep dry… This is why money matters, but it's more than money. It's about empowering communities to keep their kids safe, to keep them dry, to let them have food during the week. Allowing the kids to focus better at school because they aren't hungry, aren't worried about their wet clothes. This is why every cup counts."
With Bula Coffee being one example, Tourism Fiji's CEO Brent Hill notes that sustainability and supporting the development of meaningful experiences in the destination are two key corporate priorities going forward. 
"We're very conscious of how tourism actually contributes to local life," he shared. "I really want people to leave the resorts — you start to really experience what Fiji is all about." 
Even the national carrier is making efforts when it comes to sustainability. Along with operational efficiency and having meals served in biodegradable containers, Fiji Airways is also offsetting its carbon footprint with the 'A Tree For Every Take Off' initiative. The airline has planted 55,000 mangroves to date and is targeting another 50,000 over the course of this year. 
"We've been here for 70 years… We want to be able to say we've left a legacy as an airline," said Akuila Batiweti, executive manager, digital and marketing for Fiji Airways. "Fiji is our home."
For travellers who want to take it one step further, Fiji Airways is set to launch a new day trip in June where customers will be able to go out and help plant mangroves to offset their carbon footprint.
Checking into Nanuku Resort
"Bula Ann" reads the personalized welcome message formed from rocks at the bottom of my private plunge pool after checking in at Nanuku Resort. But Bula, a Fijian greeting meaning hello/welcome, extends beyond the monogrammed pool to the sense of welcome from staff that kicks off upon arrival with a warrior welcome. 
Located on Fiji's main island of Viti Levu, Nanuku Resort hones in on the cultural elements that make Fiji a unique destination from Kava ceremonies (a popular drink in the South Pacific not to be confused with cava) to traditional cooking classes and fire walking ceremonies. 
There are a range of memorable accommodation options to choose from, including the modern villas, newly opened in 2019, and the more traditional residences, which are expansive and are undergoing upgrades with new thatched roofing and refreshed interiors. 
The resort runs a daily schedule of activities for guests like yoga sessions with Sisi Nasiga, a former Olympian wellness coach (if you're lucky you'll be the only one who registers to get a one-on-one training session on the beach) or hiking excursions to waterfalls. For a day trip to remember, travellers can't go wrong spending time on Nanuku Island, the lush uninhabited island from where the property gets its name. Those who are so inclined can even opt to camp out for an evening under the stars.
For families: kids are assigned a Bula buddy to help keep them entertained and busy so that parents can truly enjoy some moments of calm during their stay.
While the resort is outstanding on all counts, what really sets it apart is the staff. From touches like having morning cappuccinos served with guest's names to the team gathering to sing for those who are departing, Nanuku Resort is bound to leave a lasting impression on travellers and will have them wanting to come back.
Photos courtesy of Fiji Tourism, Nanuku Resort and Ann Ruppenstein.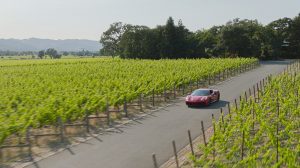 Luxury car aficionados and culinary enthusiasts are invited this fall to experience one of North America's food and wine capitals during a week-long driving journey through Napa Valley. Announced earlier this year, the complete Four Seasons Drive Experience through Napa Valley itinerary from Oct. 29 to Nov. 4, 2023 is now available to book. Celebrating the romance of road travel, guests
Read More »